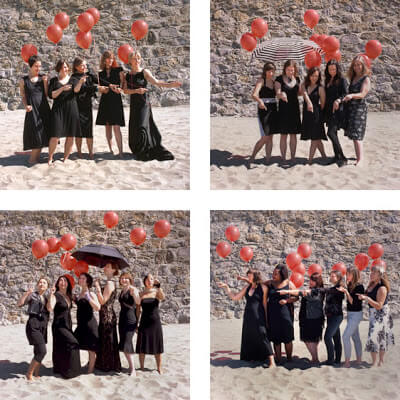 The photo above is my choir
Conspiracy of Venus
(I was not in the group when it was taken) by my friend, photographer
Audra Marie Dewitt
. The photographs are part of a book she's self-publishing called
All Together Now: Women in Music
. Right now there is a kickstarter campaign to get this book printed, and it needs your support!
Click here to see the kickstarter campaign. ONLY 7 MORE DAYS!
Read this
post
I wrote on Hear it Local's blog addressing why a book about female musicians is needed. This is a book for anyone who's ever wanted to stay true to themselves and "follow their bliss" (
Thank you Miho Hatori
)!
Audra gave me editor credit in the book, which is really awesome! In the last three years I've helped out and worked on researching and contacting artists as well as copy editing and marketing. I saw the mock up, which is gorgeous, and figured I had a hand in about half of the images. I'm very proud of this project.
Women included in
All Together Now
are on the famous side as well as unsung heroines of their genres. Here are some of the ladies that are in the book:
Corin Tucker, of Sleater Kinney, and The Corin Tucker Band
Exene Cervenka, of X, and Exene Cervenka and the Original Sinners
Miho Hatori, of Cibo Matto, Gorillaz, and Smokey and Miho
Claire Evans, of Yacht
Sean Yesult, bassist of White Zombie
Noelle Scaggs, of Fitz and the Tantrums
Amanda Palmer, does she really need a byline?
Peaches, electro raunch queen
Theresa Andersson, Swedish born/New Orleans dwelling songstress
Jolie Holland, Americana singer-songwriter
Faye Carol, jazz/blues vocalist
Rachel Flotard, of Visqueen and backup vocalist for Neko Case
Rykarda Parasol, songwriter of dark metaphoric tunes
Grass Widow, SF postpunk phenoms.
Laura Bergmann, of The Family Crest
Netta Brielle, hip hop/R&B vocalist
Megan Smith, of SF based Misner & Smith
Melora, of Rasputina
Evie Ladin, old time banjo player
Kelly McFarling, Americana singer-songwriter
Please consider contributing!