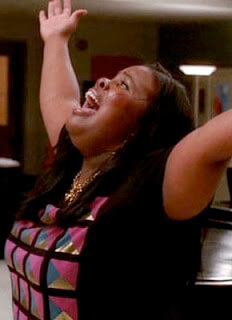 "I'm Telling You I'm Not Going" has, since the film version of Dreamgirls become the song for divas. American Idol contestants have sung it, Bianca Ryan has sung it, even the Filipina Divas have sung it (and quite well I might add). If you've got a big voice, and you want to show it off, you sing this song. You CAN'T sing this song badly, if you do, everyone will notice.
Last night we had the pleasure of hearing Amber Riley sing "And I'm Telling You" on Glee. Gawd, I love her ("Bust Your Windows"? Yeah!). But before Riley and J-Hud, there was Jennifer Holliday. She is the Godmother of them all. Holliday played Effie in the Tony winning production of Dreamgirls in the early 80s.
When Holliday performs this song, it's more like watching an emotional purging. I've never seen a performance like it before, especially the one below at the Tony Awards. You can see and hear the anguish emanating from her. I really enjoy Hudson and Riley's performances of the song, but both are lacking in the way that Holliday makes you feel her pain. Both Hudson and Riley can sing, no doubt about it, but Holliday really embodies the song when she does it.
Let me also just say, if I've done the math correctly, Holliday was the YOUNGEST of the three when she performed the song: she was 21 or 22. Hudson and Riley were a couple years older.
So, without further ado, I give you Jennifer Holliday at the 1982 Tony Awards. Please skip to 3:30 unless you want to see the scene that leads up to the song. She won a Tony for this performance.
Click here to hear Jennifer Hudson and Amber Riley's performance