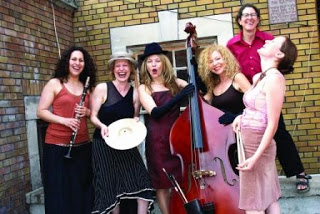 The Sisters of Sheynville
There are so many good shows on tonight in the Bay Area.  I will be going to the sold out performance of the
Tallis Scholars
presented by
Cal Performances
in Berkeley.  I've been a fan since college and interviewed conductor Peter Phillips. The article is still online, check it out
here
. But to quote, well, myself (because I can):
"We have ourselves, the music and our inspirations. Is there really anything else?" This is how Peter Phillips, director of the Tallis Scholars describes his relationship with music that was written 500 years ago. Phillips describes the Renaissance, the rich and glorified era of Michaelangelo, DaVinci and Machiavelli, as "the only period which can be said to have been dedicated to choral music." Through the Tallis Scholars, Phillips has successfully interpreted this music for the 21st century.
This pioneering choral ensemble has created a standard of excellence and beauty for Renaissance sacred music that has basically been untouched since its inception. They have been recognized around the world for their depth and variety of repertoire and their purity and clarity of sound.
This music is THE most gorgeous music I've ever heard and will probably provide the most spiritual/religious emotions and experiences for me personally.  If you want the full effect, turn this up, LOUD. That's the way classical music was meant to be heard.
After that I'm heading over to the Independent to check out this years crop of
Japanese SxSW
bands. Every year, Japan sends about a dozen bands/musicians to the SxSW festival for two nights of showcases.  Then, they go on tour. Japanese bands put on an awesome show, like much of Japanese culture, nothing only goes half way. 
My favorite band that will be there tonight is
detroit7
(I've blogged about them
before
). I finally figured out who lead singer Tomoni Nabana sounds like: a female Lou Reed(!!!)
Inspired by the legendary Barry Sisters of the 1930s and 1940s, this all-female Swing-Klez sextet was voted Canada's top folk vocal group in 2008. Their airtight three and four part vocal harmonies in Yiddish positively sizzle with seduction. You'll think you're in Paris when Gaucho opens with the Gypsy Swing sounds that recall legendary guitarist Django Reinhardt.