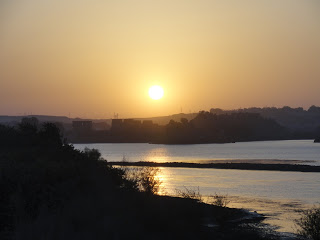 I've promised several lovely people that I would post links to some of the follow-up projects that I've found around the inter-toobs. Even after a week I am still processing my experience there, and hopefully I'll share some of my thoughts with you here eventually.
But for now, here are the BBC Radio 3 specials, including interviews and live performances. They're really interesting, and fabulously British. It was fun meeting these reporters, they were with us for a week in Aswan.
BBC Radio 3 - Episode 1
BBC Radio 3 - Episode 2
This youtube channel
has the entire January 31st Nile Project Cairo concert. Click through the entire concert if you feel like it. Here's a selection of Mohsen's "Amm Ya Gamal" (from another youtube user):
I posted all of my best photos on my facebook page if you missed them the first time round, click
HERE
.
The Nile Project on Al Jazeera Mubashar. For non-arabic speakers, click to 10:40.
This is an awesome little video made by Nile Project volunteers Simon and Akiko featuring Alsarah and Mohsen (this time playing the Egyptian simsimiyya) called "Ana Arous Al Nil", a traditional Sudanese wedding song.
Click
HERE
to read the article I co-wrote for a Sudan Tribune.
And
HERE
if you'd like to read German, and a piece by reporter and Nile Project volunteer Andrea Backhaus.