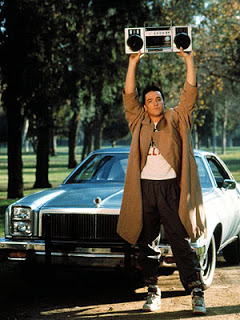 I was chatting with my roommate today when
Peter Gabriel's "In Your Eyes"
came on the radio. This has always been one of my favorite recordings, it's just perfect. I've often thought how I've never heard a cover of this song that I've really liked, and you KNOW I love me a good cover!
I've heard
all sorts of people
cover this song including a recent
trainwreck of an attempt
from opera singer Renée Fleming; and who is
Jeffrey Gaines
, should I remember? I've heard tons of choral a cappella versions, but I don't know if they count.
What is the key to a good cover? I think it's when an artist takes someone else's song and makes it their own while highlighting the song itself. I especially love it when a crappy pop song is made awesome by an amazing rendition (hello
Travis' cover of "Baby One More Time
").
I don't really know what it is about "In Your Eyes," It's a quintessential 80s pop tune with those fabulously 80s world music nuances (hells yeah Youssou N'Dour) and there's that repeating reference to churches that seemed like it should bother me, and never did. And come to think of it, I've never heard anyone say that they don't like the song. How can you dislike Peter Gabriel anyway? The man is amazing. (I just saw that he was
touring this summer.
)
I challenge you to find me a cover of this song that really does this tune justice. One that really ups the ante and shows that "In Your Eyes" is not just one of the 80s best, but a timeless, solid song.
I also challenge you to suggest other uncoverable songs; songs that have been covered, but never in a satisfactory way.
(All that said, I just came across this Sara Bareilles cover of "In Your Eyes." I, um, sort of really like it...still had to post the above anyway.)