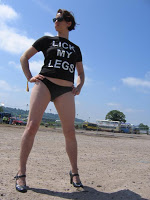 Thanks to
Jessica
for sending this onto me. I felt the need to repost.
Amanda Palmer of the
Dresden Dolls
recently blogged:
artists need to make money to eat and to continue to make art.

artists used to rely on middlemen to collect their money on their behalf, thereby rendering themselves innocent of cash-handling in the public eye.

artists will now be coming straight to you (yes YOU, you who want their music, their films, their books) for their paychecks. please welcome them. please help them. please do not make them feel badly about asking you directly for money.

dead serious: this is the way shit is going to work from now on and it will work best if we all embrace it and don't fight it.
Read more of her blog entry here.
This is why I've been waiting to buy CDs from artists until I see them live. There is no middle man, and often you can get the CD cheaper than if you bought it at the store. The money goes straight to the artist. And call me old-fashioned, but I like having an actual CD to listen to instead of purchasing from itunes.
Palmer also goes onto say (and I love this):
feel ok about giving your money directly to paul mccartney. he may be rich, but he still rocks. show you care.

feel ok about giving it to fucking lady gaga if you've been guiltily downloading her dance tracks for free. rejoice in the fact that you are directly responsible for several threads in her new spandex spacesuit.
I do love the spacesuit. Is there any way to get around the $20 of fees ticketmaster will add to a $48 ticket? I think not. I'm glad people are buying them, I guess. Just not me.