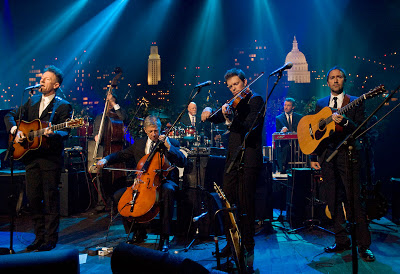 Lyle Lovett and his Large Band play Austin City Limits in September 2011
(Ralph Barrera/Austin American-Statesman

)

"I Will Rise Up"


I just came home from seeing Lyle Lovett and His Large Band at The Warfield. And here's the thing: Lovett could put my grocery list to music and it would sound good, that's just how moving his voice is. And not to mention his band... holy shnikeys! (Special shout out to fiddler/vocalist
Luke Bulla
and guitarist/mandolin/vocalist
Keith Sewell
) These dudes are insanely talented and a pleasure to see perform.
I actually think I probably prefer the smaller five piece backup band to the "large" band Lovett has played with in the past. This smaller setup is more intimate and seems more old school country/bluegrass to me, something that folks seem to appreciate lately.
I will admit, I did not, and still really do not, know Lovett's music well. I heard about him when he married Julia Roberts and I've seen him appear in the Altman films, but I never got into the music. It's not that I didn't like it, I just never gave it a moment. I even lived in Texas for three years (he's from the Houston area and spends a lot of time in Austin), and nada; don't know why.
Not until 2am last month when I happened upon his Austin City Limits episode, the last one filmed in studio 6A on the University of Texas campus, before the show moved locations. His live show is so gorgeous.
This is the kind of country music you can add to the list that's "okay to like"; you know, the same list on which Johnny Cash and Dolly Parton reside. His music is deep, beautiful, playful and meaningful.
What I also love about Lovett is his deadpan sense of humor and awkward stage banter. Calling out his bandmates and embarrassing them for all their accomplishments like a proud parent, telling bad jokes and drawn out stories of being on the road. He was enjoying himself, and that is always one of my favorite things to witness.
My blog is named upon the idea that there will always be more music to hear, whether it is new, old or from far away. There are artists you will know about and yet one day, their music will smack you in the face (or the ears) and you will have a whole new appreciation for their craft.
This is one of those times.
"Up in Indiana"