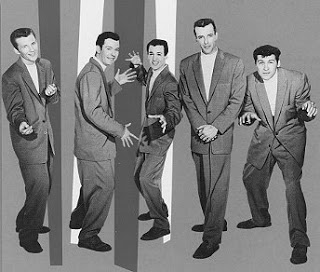 The scene is classic, the song: immortalized. And after a raucous New Year's Eve in 2001, I will never touch tequila again...
"Tequila" was recorded last, and was composed on the spot based on a "raunchy" latin tinged saxophone solo written by
Flores,
the "God Father of Mexican Rock." The song was released as the B-side for "Train to Nowhere" but skyrocketed up the charts to reach #1 in March of 1958.
In 1986, the song appeared in
Pee-wee's Big Adventure
when Pee-wee dances his way out of certain death in a biker bar after knocking over dozens of bikes. He finds "Tequila" on the jukebox and borrows a busboy's ridiculous white platform shoes to rock this scene.
Enjoy.