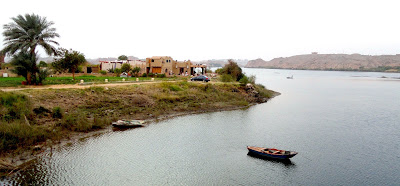 The Fekra Cultural Center from across a small bay. The Philae (Isis) Temple sits directly behind




Right off the bat, you will be glad to know that I am exactly where I need to be. There are no words to describe the gratitude I feel for this opportunity to be in Aswan at the Fekra Community Center for these couple of weeks. I am so appreciative for the all moments and decisions that have brought me to this place. And so I appreciate all my readers (my friends and family) for the encouragement you may have directly or indirectly given to me. Thank you for that.
The smiles of the Nile Projects co-founders Mina Girgis and Meklit Hadero right after the musicians have all introduced themselves and their instruments.
Please hang in there with me as I process all of this so my brain won't explode! This is the first day the musicians are here and it's taking a moment to settle in.
Today have been thinking about the reasons why I was so initially drawn to The Nile Project. It was like a magnet right from the beginning. From first knowledge, I could see that this is the sort of project I needed to be part of as ethnomusicologist. It was "a dream come true".
As a student of ethnomusicology, I was aware that I loved music and was fascinated by the reasons why and how people create it. But this project has brought to surface the logical application of this passion and reasons I was not initially aware of.
This is sort of the logical and emotional journey of how I got here:
I love music
I love making music and I love witnessing the joy of its creation and performance
I am passionate about sharing this joy with others, whether it is through performance, education or simply listening
I want to improve lives. Providing joy in a moment of musical creation and performance is one thing, but making someone's day better because they can feed their children, live peacefully with their neighbor, and not have to worry about survival is something else entirely different.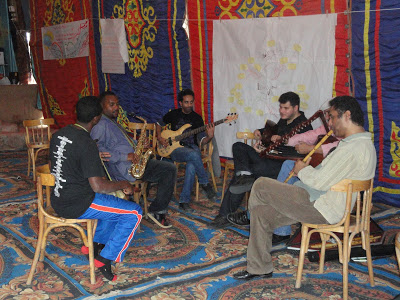 Musicians from Ethiopia and Egypt jam for the first time
The Nile Project uses music as a medium to bring about larger conversations to improve lives and communities. Bringing these musicians together is a microcosm of what we would like to bring about in Nile Basin communities: come to together to learn, respect eachothers rhythms and negotiate compromises for peaceful co-existence.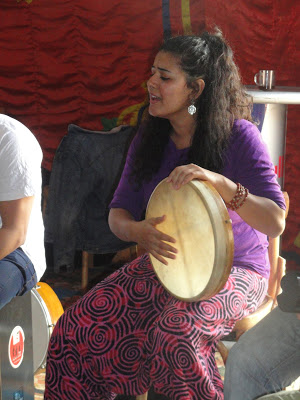 Egyptian singer Dina El Wedidi performs in the musical instructions. Gil Giberto is her mentor. I asked her to give me a voice lesson or two while we're here.
So, at the moment I am sitting outside the tent listening to a musical jam from musicians from three different countries. The vocalists are sitting on the roof teaching each other songs, and two percussionists are sitting in a house down the road learning traditional rhythms from their respective countries. It's going to be like this all day and all night for the next two weeks.
This is like wandering down the practice room halls of a music conservatory. All the beautiful cacophony. It's one of my happy spots.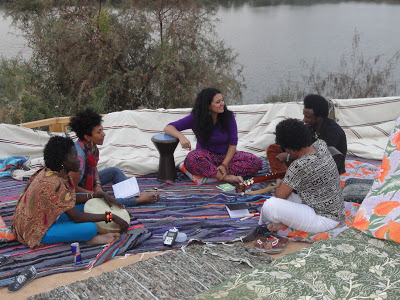 The vocalists sit on the roof teaching each other songs.
It's amazing to watch a percussionist from Egypt teach a rhythm to another musician on a completely different instrument. Witnessing the learning of different scales is just as incredible.
I cannot even fathom the music that will be created here in the next two weeks. I can't wait to hear it. I can't wait for YOU to hear it.
And, we are still waiting for musicians from Kenya and Sudan to arrive. So there is more to come. Way more.