Outside Lands Fest was surprisingly fun today. It was a shitty typical cold and overcast day in San Francisco (just the way I like it!) and I got to see The Original Meters, Phish, The Shins, some acrobats, a drumcore samba brass band, art
installations
and hippies (both old and young).
Here's some photos I took, and maybe a video or two.
Phish
- My friend wanted to get super close-up for the Phish set, so we charmed our way through the crowd to a pretty close up spot. It was totally worth it. These dudes are still so awesome. I saw them a bunch in high school and college and it was fun then and it was fun today.
And I just wanted to say, these guys are jamming their way into middle age and I love it when rockstars just look like normal people. I had to post this picture because Mike Gordon has the most awesome "play face".
And yes, I was very pleased to see that Jon Fishman still wears the polka-dotted mumu, this time with a hoodie underneath to keep warm.
Can't have a Phish show without balloons and beach balls...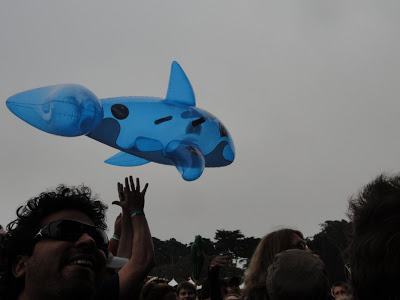 The Original Meters
: Art Neville on keys, Leo Nocentelli on guitarist, Joseph "Zigaboo" Modeliste on guitar, and George Porter Jr. on bass. George kept welcoming us to "Senior Citizen Fun 101" This was fun, but too bad Leo's amp kept getting out of whack. We got to hear some awesome jamming, but lost lots of time to hear songs. We did get to hear "
Cissy Strut
" though, and that's all needed. It doesn't get much funkier.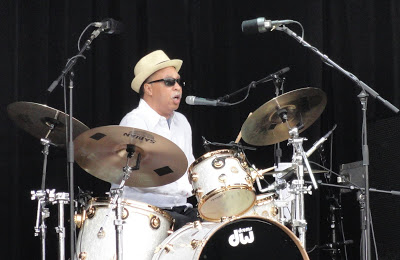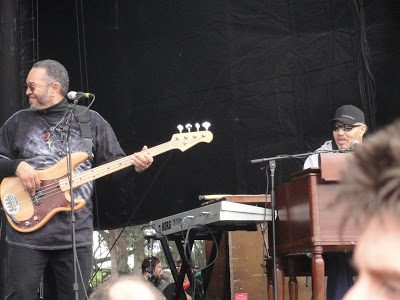 The Shins
- Great. They played a tune off the record they are working on and almost done with. It was really awesome. Let's just say it had a little bit of a Caribbean feel to it...
And wait-a-minute, I believe there was a female guitar rhythm guitarist up there also doing backup vocals, does anyone know anything about her?
See all the lights in the audience below? This picture was taken during the first song when all of those cameras came out. So funny.
Inspector Gadje
and
The Loyd Family Players
-
found these local folks playing out in the open. Two bands playing as one: one part Eastern European Brass, one part samba/drumline. An awesome team. We followed them into the forest and into Cocoland.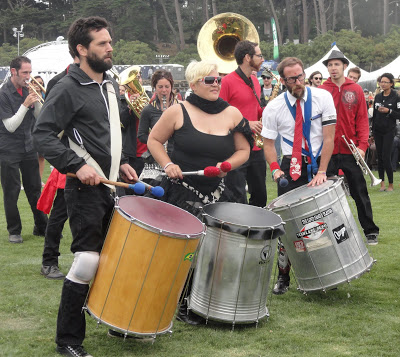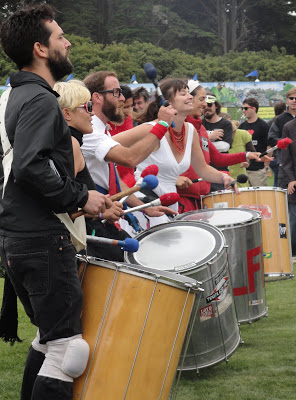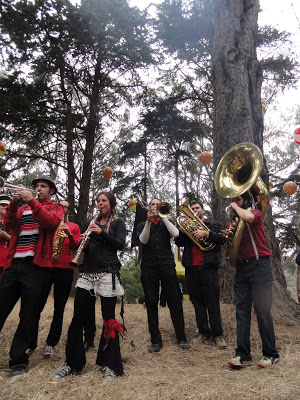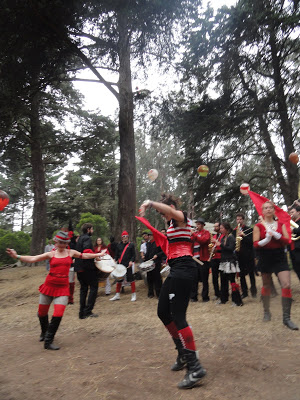 Choco Lands
: I'm not sure what was going on here, but I liked it. In the forest there were art
installations
all over the place: huge wind chimes with a rope swing in the middle (so that when you really got swinging the top of the rope would hit the chimes), a mime show, structures, parachutes... very Burning Man.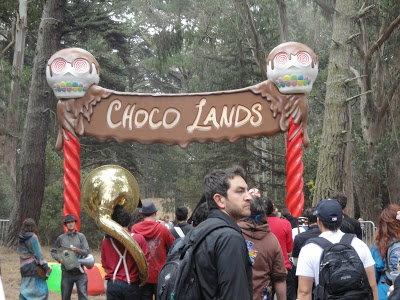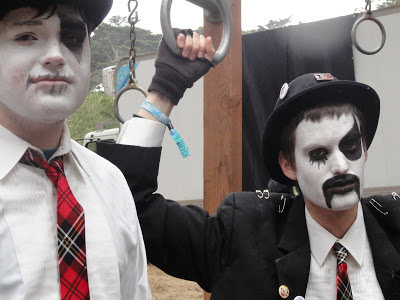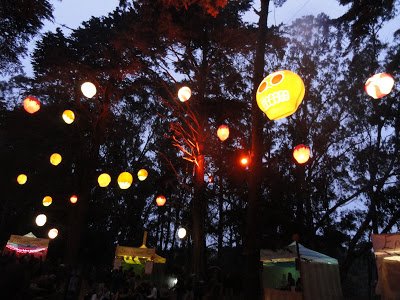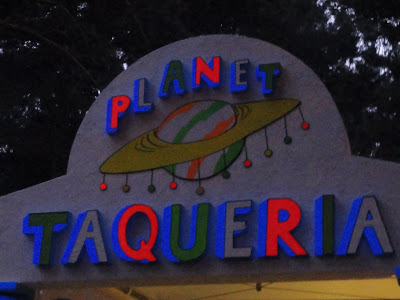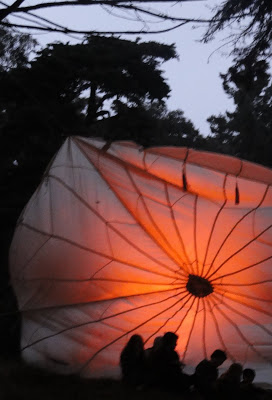 The Barbary Tent
: with vaudeville, burlesque, acrobats, SF local boys from the
Jazz Mafia
as the house band, magicians, etc. Another perfectly SF addition and a great place to actually SIT IN A CHAIR. I'm getting old, standing all day is making me stiff.
This guy, Ethan Law, is doing one of those Cyr Wheel Cirque du Soliel awesome things. He's from SF's Circus School!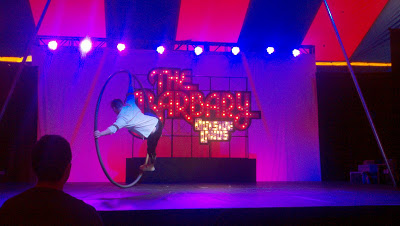 People
- Because of Phish, the Burning Man vibe was strong today. Tomorrow will be another story (tomorrow is Muse, the Black Keys, The Roots, Girl Talk, etc.)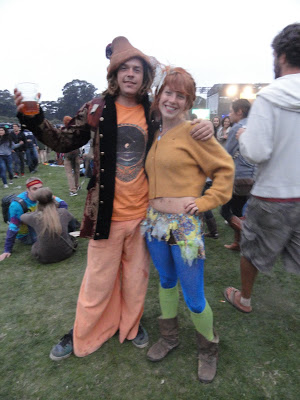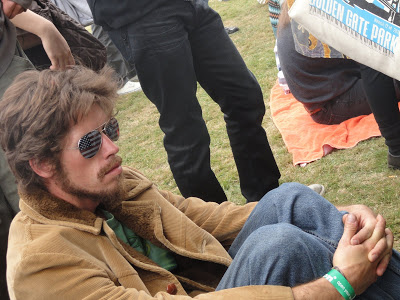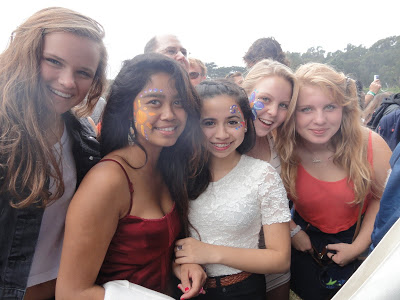 Oh, teenage girls at festivals: you are so cute, and yet probably so annoying to some folks. I remember being that excited about everything!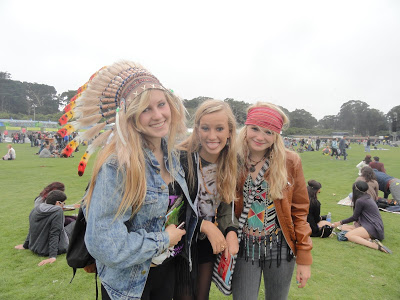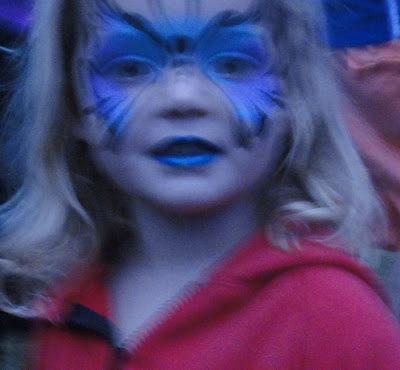 (This picture is a little creepy, but this little girl had the coolest face painting, and I caught this blurry shot right before she got super smiley for the cameras.)