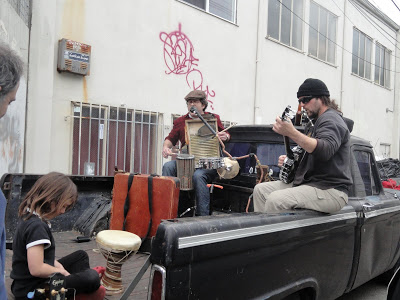 Yesterday I heard live music coming from somewhere very close to my bedroom. Peeking out my roommate's window that faces towards the back of the building I saw that my neighbors were having a party out of their garage in the alley way. I spotted these dudes playing some music out of a truck. On my way out, I walked through the alley to see what was going on. Turns out it was a going away party.
I sorta felt like I was still in Austin during South By Southwest, where music really is everywhere, including the alleyways.
So then I kept walking down the alley past the party to get back out to the street and found these murals. The Mission is full of murals; just chalk full of them. Actually the whole Bay Area is chalk full of murals, they are everywhere. I've started taking pictures of the musical ones, and there are lots. (One day soon I'll share them with you.) These photos were talking right behind my house, and in the year I've lived there, I've never seen them.
This city just keeps getting more amazing.