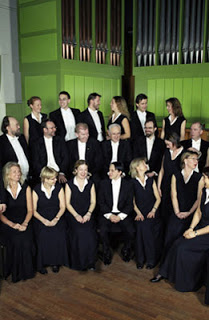 The Swedish Radio Choir does not play it safe. They go all out for the rare, hard-hitting, obscure and difficult. And when a musical ensemble takes risks, it is memorable. Even a week later, my ears are still buzzing from some of the repertoire performed by The Swedish Radio Choir by
Cal Performances
at Hertz Hall on the UC Berkeley campus. It was also exciting to see
Ragnar Bohlin
, Chorus Director of the San Francisco Symphony as guest conductor. He has worked with the Radio Choir in the past and teamed up with them for their 2010 Spring tour.
Even though I have sung in choirs for over half of my life and have a deep love for this music, I would not consider myself a choral music specialist. However, I will usually be familiar with at least one or two selections on any given program. From this program, I only recognized the names of Gustav Mahler and Johann Sebastian Bach. It is always exciting to hear music that is completely new to the ears. The Radio Choir features Swedish compositions, rarely performed pieces of the great masters and relatively obscure composers from all over the world.
The piece that I can still hear buzzing in my ears and that I am most excited about is Anders Hillborg's "Mouyayoum," composed for 16-part-chorus without text [hear excerpts in video below].
TO READ MORE CLICK HERE