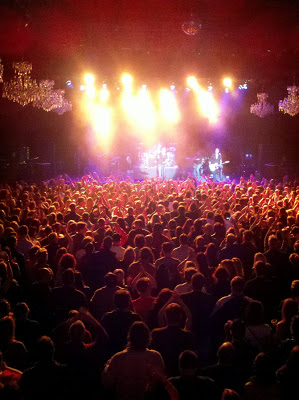 Many things can be said about the band Train. Originally from the Bay Area, this Grammy-winning band is the quintessential feel-good poprock band and will be forever associated with the cheese-tastic tunes "Hey Soul Sister", "Drops of Juptier" and "Meet Virginia."
When I caught wind that Train would be playing six-gig engagement at San Francisco's most beloved venues including the Fillmore, The Great American Music Hall, Bimbo's 365, Slim's and the Independent, I definitely rolled my eyes a little bit. But when I heard that these shows sold out immediately, I decided I had to give this band who's been working hard for over 20 years the benefit of the doubt.
I loved reading
this little article from SFist
about this group of mom's who traveled here from around the country to see all six shows, and camped out early to get a good spot in front of the stage. SFist also coined the genre "Mom Rock" in association to Train. Too funny.
I'll just say now that Train puts on a GREAT show. And as my friend said, "They give a damn" about their fans. Lead singer and front man Patrick Monahan signed dozens of posters and t-shirts from stage mid-song. Some of the items came from the audience, some came from the band.
There were lovely, sappy and endearing moments when Monahan got to show off that he's just a regular family guy: bringing his tutu-wearing young daughter on stage to spin and dance. He also told stories about how much he loves his wife and how he wishes she could have gotten to meet his mother, who "Drops of Jupiter" is written about.
But perhaps the high light of the evening was when San Francisco Giants players Barry Zito and Matt Cain joined Train onstage for a couple songs (Zito plays guitar) incuding Journey's epic "Don't Stop Believin'" And of course, the crowd went wild, including yours truly.
See a video here
. There's nothing like celebrating the beginning of baseball season like that!
Monahan sounds terrific; 20-years of singing at the top of his vocal range has been good to him. The band works it out. Local singer/songwriter Megan Slankard who also opened for Train at the Great American Music Hall earlier this week sang back up vocals. Other bands to open for other San Francisco shows were Finish Ticket, The Family Crest, Jeff Campbell, bringing the local love.