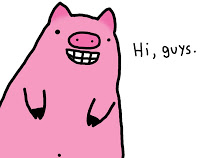 Helloooooooo!
I have a question for you all:
What do I need to do to get you all to start talking back at me? This question is not meant to be a Geeez-why-won't-you-comment thing, but more of a blogger trying to figure out how to make the most of her blog and getting it to be a more interactive place where we can talk about music, which is sort of the whole point...
My posts have not been super interactive and I don't necessarily want to completely change how I do things, but I'd like to try posting more material that will inspire you to share YOUR opinions and YOUR experiences. I know many of you personally, and I think there are folks who read this blog that have found Always More to Hear searching the net I've never met. I would love to hear from all of you! Please introduce yourself!
So I'm going to try some different things and see what works.
I've got some CDs to give away. I'm not sure what they are yet (CDs from my collection and/or mixes), but I'll figure something out. I'll randomly pick a couple folks and send you something.
Tell me: what are you listening to right now and why do you like it?
Maybe post some links so that we can listen?
I'm listening to a Doo-wop box set I bought at the Rock and Roll Hall of Fame back when I was magically stuck in Cleveland last summer. My friend and former classmate Kathryn works there, so I spent the morning poking around. Doo-wop great driving music and just fun to listen to.
There's stuff on there that shows up on the "Stand By Me" soundtrack, like this gem by
The Fleetwoods
- "Come Softly to Me"