Friday, March 12, 2010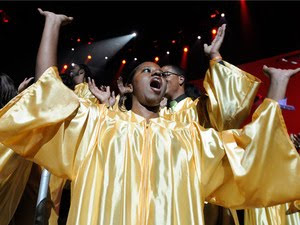 Stephen J. Boitano/Stringer

/Getty Images


Tuesday, January 12, 2010
So my friend
Kim
was in town last weekend doing some
research for her dissertation
and wanted to see 3 Idiots, and I was happy to go again. It was just as enjoyable as the first time.
These are the two songs that I just can't get out of my head, thanks a lot Kim for posting them as your facebook status...
I can imagine that if you haven't seen this movie, these scenes are going to be completely out of context and totally bizarre.
So read here for my review of the movie
.
"Zoobi Doobi" - this is a dream sequence - obviously - Rancho (Amir Khan) and Pia (Kareena Kapoor) are falling in love. Some of it takes place at a wedding because they met for the first time at Pia's sister's wedding, which Rancho crashed.
and "Aal Izz Well" - Rancho and his college buddies sing about tricking your heart into thinking all will be good when fear comes, that way you'll have the courage to take it on. Enjoy the soaped up guys. And the toilet shots. HA. so funny.
Yes, it is totally silly, but that's what I love about Bollywood. I love the silly and ridiculousness.
And now you understand this picture.
Sunday, October 25, 2009
On Saturday at 5:30 pm, 169 Zombies gathered at
Studio One Art Center
in Oakland, California to dance to Michael Jackson's "Thriller." They were joined at the exact same time by 300 other locations around the world in an attempt to break last year's record set in Guinness Book of World Records 4,179 dancers from 10 nations. This year, it is
already reported
that there were 6,000 fans in Los Angeles alone and that 37 countries participated.
See the slideshow of the Oakland
event
Zombies, young and old, had a blast learning the dance and participating in the event in Oakland yesterday. From 3-5pm there was dance instruction out on the Studio One plaza. At 5:30 sharp, the "Thriller" dance commenced in front of many on-lookers. It ended with the crowd chanting "Michael! Michael! Michael!" and doing it all over again just for fun. Zombies then invaded the
Kona Club
on Piedmont, many of them ordered the drink "the Zombie." (I did, it was tasty!)
READ MORE OF THE ARTICLE HERE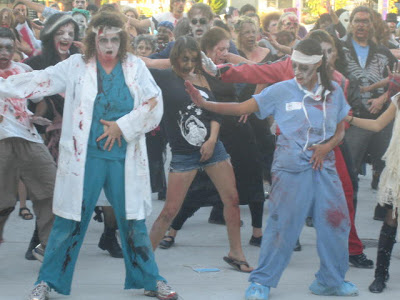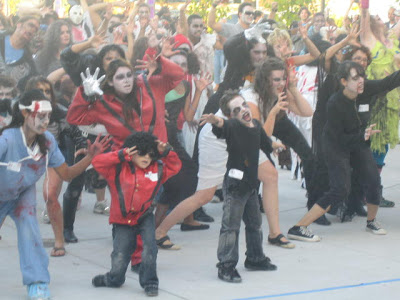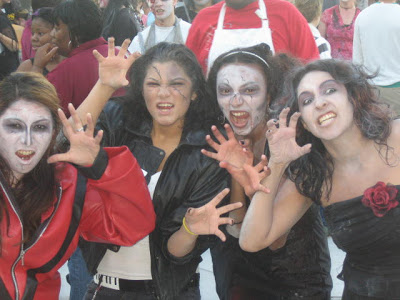 Wednesday, October 14, 2009
Thursday, October 8, 2009
I love watching the guy climb behind his computer and the chick who doesn't want to be involved.
Thursday, April 16, 2009
A coworker and his wife are having a baby and everyone in the office each decorated a onesie for him. I'm pretty proud of mine. I used
this picture of Bruce Springsteen
, who has a large fanbase in the office, to get the back right. (And I know the strap wouldn't be attached to the neck like that, it just ended up that way.)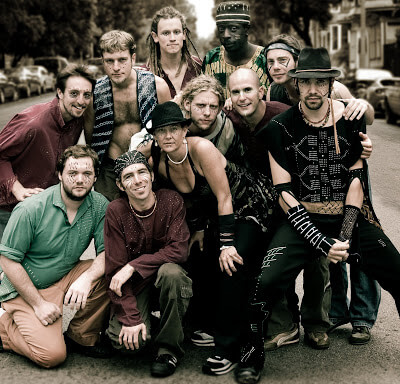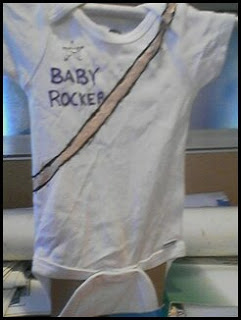 Sunday, March 15, 2009
The Jefferson Airplane, The Grateful Dead, the Steve Miller Band: the music created in San Francisco has a very distinct flavor;
The Botticelli's
carry on this tradition, full of dreamlike ambiance and whimsical lyrics.
The Botticelli's will be performing several times at SxSW this week, check out their
myspace
page to see when.
I was pleasantly surprised to discover
Dent May & His Magnificent Ukulele
at the Bay Area's
NoisePop!
Festival this year. Hailing from Mississippi and singing of finding love at academic conferences, the Magnificent Ukulele is funny and fun. The record
The Good Feeling Music of Dent May & His Magnificent Ukulele
is silly sing-a-long music (I should know).
Find out their SxSW schedule
here
.
I've added some tunes of the bands I've recommended to the playlist including Dent May's cover of Prince's (and Cyndi Lauper's) "When You Were Mine." Check it out.
Friday, February 13, 2009
I love this song: "Jamie" from the early career of Edward Holland Jr., before he was part of the songwriting Motown powerhouse Holland-Dozier-Holland.
Saturday, January 24, 2009
I know we all love this movie, and we all love this moment.  I just thought you should relive it, just for fun. 
What I really love about this scene is how, twenty years or so after its release, a song recorded by The Beatles brings an entire city together.  I know it's a movie and these people were probably paid to do this, but all of these people KNOW this song. They LOVE this song.  And they are having a good time grooving to it.  It's just a universal super feel good moment.  It makes me smile every time I watch this movie. 
I love the folks dancing down the stairs, the window washer, the busty Bavarian float dancers shimmying their stuff, the little kid hold his hands over his ears and that one guy playing the
Sousaphone
(a wearable tuba) out in front who is totally getting down!
Enjoy. 
Saturday, December 6, 2008
RULES
1. Put your iTunes on shuffle.
2. For each question, press the next button to get your answer.
3. YOU MUST WRITE THAT SONG NAME DOWN NO MATTER HOW SILLY IT SOUNDS! (I will skip over the stuff in other languages)
4. Tag 10 friends who might enjoy doing the memo as well as the person you got the memo from.
5. Add a pic that you think represents you at this moment in time.
IF SOMEONE SAYS "IS THIS OKAY" YOU SAY?
Muddy Water- Bessie Smith
WHAT WOULD BEST DESCRIBE YOUR PERSONALITY?
Legal / Illegal - Ewan MacColl Peggy (Right now ain't that the truth?)
WHAT DO YOU LIKE IN A GUY/GIRL?
Nine Lives - Midnight Juggernauts (okay...?)
HOW DO YOU FEEL TODAY?
Triple Trouble - The Beastie Boys (nice!)
WHAT IS YOUR MOTTO?
You Are what you Love - Jenny Lewis with the Watson Twins (perrrrfect!)
WHAT DO YOUR FRIENDS THINK OF YOU?
Rooms - The Mamas & the Papas
WHAT DO YOU THINK ABOUT VERY OFTEN?
Connie-O - Four Seasons (I do miss her..)
WHAT DO YOU THINK OF YOUR BEST FRIEND?
4th Time Around - Bob Dylan
WHAT DO YOU THINK OF THE PERSON YOU LIKE?
London - The Smiths
WHAT IS YOUR LIFE STORY?
Striptease - Hawksley Workman (haha! Nice)
WHAT DO YOU WANT TO BE WHEN YOU GROW UP?
Fish Upon the Hook - Rayna and Susie ( yikes! )
WHAT DO YOU THINK WHEN YOU SEE THE PERSON YOU LIKE?
Dead Disco - Metric
WHAT WILL YOU DANCE TO AT YOUR WEDDING?
Preachin' the Blues - Son House
WHAT WILL THEY PLAY AT YOUR FUNERAL?
Yes I Am - Radiohead
WHAT IS YOUR HOBBY/INTEREST?
America - Public Nuisance (It certainly is a pastime of mine)
WHAT IS YOUR BIGGEST SECRET?
Hey Leanne - The Aliens
WHAT DO YOU THINK OF YOUR FRIENDS?
Sweethearts - Franke and the Knockouts (they are hot)
WHAT'S THE WORST THING THAT COULD HAPPEN?
God Knows - The Coral (yes, he does!)
WHAT IS THE ONE THING YOU REGRET?
You Make Loving Fun - Fleetwood Mac (REGRET???? Shesh...)
WHAT MAKES YOU LAUGH?
Wire- U2
WHAT MAKES YOU CRY?
Hey Now Baby - Professor Longhair (My poor love life!)
WILL YOU EVER GET MARRIED?
I Love You Yes I Do - Clarence "Frogman" Thomas (Phew!)
WHAT SCARES YOU THE MOST?
Addicted - Kelly Clarkson (oy. And yes, I have Kelly Clarkson in my ipod)
DOES ANYONE LIKE YOU?
Bad - U2 (hey...!!)
IF YOU COULD GO BACK IN TIME, WHAT WOULD YOU CHANGE?
All Just to Get to You - Joe Ely (Who did I miss out on???)
WHAT HURTS RIGHT NOW?
(Sharp Cutting Wings (Song to A Poet) Lucinda Williams (ouch!)
WHAT WILL YOU POST THIS AS?
When Plots Thicken - Junior Panterz (Dave will like this one)
I'm bored, whaddaya want?
Sunday, November 2, 2008
Animal sorta rocks my world.
Monday, October 13, 2008
I'm up at 5am because I'm still on Australian time and this is making me very, very happy. 
Thanks Sarah!
"I've never seen anything like that before!"

"And with any luck I'll never see anything like it again! Haaaa ha ha!" 

"Play it again!"

"Oh, right..."




-Statler and Waldorf (the two old man puppets that like to heckle)
How about Gonzo, Camilla and Strauss' "Blue Danube Waltz," in "Classical Chicken":
And just because I can't get enough... 
"How many hits did that thing receive?"

"Unfortunately not enough to kill it! Ah ha ha haaa!"




-Statler and Waldorf