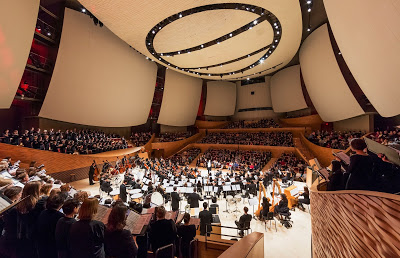 Bing Concert Hall Opening Night, Stanford University - January 2013
There are few classical pieces of music that have been known to bring me to tears in my lifetime. These are compositions I know well enough, have a personal history with, and know some cultural history about. But they are also simply POWERFUL pieces of music and hold great emotional value, which is the main quality that has made them famous.
So when you experience them live, even this Agnostic says, there is nothing else to do but gaze upwards and bawl your eyes out knowing in your soul that music still exists in this world to make you feel everything all at once and you are ALIVE.
It also helps when you have just found out that one of your best friends is finally getting married and you've had a very difficult month and desperately trying to see silver linings :)
Verdis'
Requiem
is on this list, and so is Samuel Barber's
Adagio for Strings
.
On June 2nd, I had the opportunity to hear Beethoven's 9th in Bing Concert Hall, Stanford's brand new concert space. I have worked there for the last few months and have had the pleasure of spending some time in the new Hall, seeing folks like Laurie Anderson and the Kronos Quartet, NY Polyphony and Steve Reich. The June 2 performance with the Stanford Symphony Orchestra was not only the last show of the season long Beethoven Project, but also the entire the year's season. So there was extra finality to it.
The last movement ("Ode to Joy") is the super famous movement: you know, the one with the melody. But I had forgotten that the first and second movements are so charged with anger, emotion and passion. I think I like those even better.
There are so many memorable little moments including the timpani getting to rock out, feeling a little manic as the mood changes from LARGE to tiny and then building up again. The creepy, crawlyness of the second movement. You want to conduct from your seat.
Beethoven wrote this last symphony when he was an old curmudgeonly deaf man. It made him so sad and mostly ANGRY to be deaf. This medical situation kept him from the music that he loved so dearly. And out of this anger and passion, he wrote an incredibly powerful and beloved piece of music. But even more, the last movement is about Joy, PURE JOY.
This is my favorite bit. Even in his depression and anger, he was still able to bring out the joy of living.
And even MORE, thanks to the documentary I found through kickstarter "Following the Ninth", which follows the 9th around the world and back through time. Where was this symphony used? How was it used? What does it mean to entire nations?
To the Japanese is a tradition like American's worship Handel's Messiah. Students played the 9th at Tiananmen square. It's been used to power rebellions in South America.
Watch the trailer for
Following the Ninth
here:
It is with great joy that I bawled my eyes out during this performance. Kudos to the Stanford Symphony Orchestra and conductor Jindong Cai for providing a beautiful performance.
Following the Ninth
has started screening its way across the country. I implore music lovers to check out it when it comes to your town.