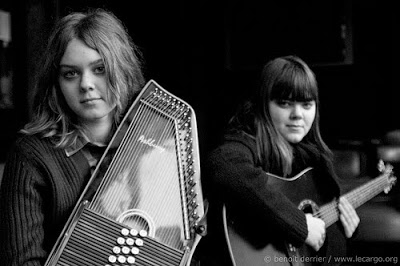 Klara, 17 and Jöhanna, 19 Soderburg are First Aid Kit
"When I fall in love with music...I want to share." That was the email I received from a friend of mine the Fall of 2008 introducing me to First Aid Kit's cover of Fleet Foxes' "Tiger Mountain Peasant Song." I fell in love too and can't wait to check out the two Swedish teenage sisters play the Bottom of the Hill next Tuesday, June 2nd.

First Aid Kit is Jöhanna and Klara Soderburg, ages 19 and 17. They grew up in a suburb south of Stockholm getting an early start making videos in a forest near their home and posting them on youtube and myspace. The cover caught the attention of fellow Swedes the Knife, who released the EP Drunken Trees on their label Rabid Records last year. Earlier this year Wichita Records released the full length album The Big Black and the Blue .
The
Fleet Foxes cover
might be what draws you in, but their original music is what keeps you there with lyrics well beyond their years and vocal harmonies perfectly intertwining the girl's strong voices.
Other than a quick jaunt to South by Southwest earlier this year, this is the duo's first American tour. I caught an email interview with Jöhanna, the older of the two sisters. She talked about writing songs with her sister, advice for other female musicians and how the Internet has helped First Aid Kit on their way.
Read the interview here