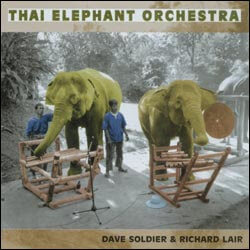 I visited the
San Francisco Asian Art Museum
 last night and, as typical, I parked myself next to the music section in the gift shop and checked out what they had.  After being entertained by some cool Afghan dance music, I found
this (watch the video)
 and knew I had to tell you about it.
American Richard Lair has trained elephants how to play music in Northern Thailand, much like those that have been
taught to paint
.  Lair and his assistants teach the elephants how to play instruments and then conducts them in concerts for visitors.  These instruments are specially made elephant-sized traditional percussion and string Thai instruments. Other than the harmonica, which the elephant can grasp with the tip of its truck, the elephants play instruments that can be struck with either a mallet or with a bare trunk.
Lair says,
"For some of the elephants is just a job, but for four or five of them they really like to play, and two or three and absolute musical geniuses.
"The orchestra is interesting because the elephants don't play tunes, but what they really do have is a really strong sense of rhythm and that is really where the secret is.  I think the music is wonderful because it is not written down.  You really have to open up your mind and open up your heart because you never know where it's going."

I love where the narrator points out that the deity Ganesh is an elephant.  It's no surprise to many people, especially the musician in this video, that elephants can be accomplished musicians.
Read more about the elephants and their "imitation" of music in
this article
by composer, academic and producer of the Thai Elephant Orchestra records David Soldier.  You'll find the part on the Thai Elephants on page 4.  I don't know if anything can be called musical "imitation,"  but then it depends on your definition of music which is Soldier's whole point.
I definitely call what these elephants do music, but I don't know if I personally would listen to the whole CD at home.  But if and when I go to Thailand, I will gladly pay to see them perform,  but then again I feel that way about a lot of music I see around me.