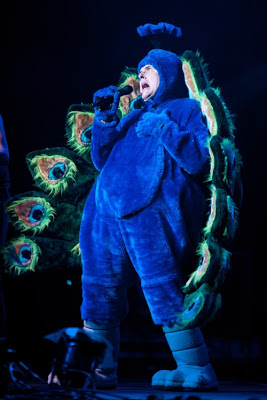 Weird Al performing "Perform this Way" - a Lady Gaga parody in song and outfit. Elton John eat your heart out.
(All Shook Down blog, photo by Jamie Soja)
A wise man (Homer Simpson) once said "Ye who is tired of Weird Al is tired of life".
A Weird Al Yankovic concert is a pop culture orgy. Not only are his songs mostly parodies of well known pop songs, but his shows are brilliantly interspersed with costume changes, fake celebrity interviews and clips of ANY mentions of Weird Al in the media.
I saw Yankovic in 1999, my sophomore year at the University of Michigan, and had a blast. The show on November 6th at the Fox Theater in Oakland was even better. Yankovic is in his 50s, but can do can-can kicks like a young kid. And I'm going to say it, looked pretty good in the leather pants he put on for the Doors parody.
I'm pretty familiar with Yankovic's discography. There were a few tunes I didn't know, but one of the things I really like about this show, is that if you pay attention to mass media AT ALL, this show is immensely entertaining because you catch the parodies. Not only the songs, but the bits between songs as well.
There were clips making fun of Yankovic from Friends, Scoobie Doo, Letterman, Who Wants to be a Millionare, How I Met You Mother... everything, no matter if the clip praised or made fun of Al.
My favorite was a husband/wife dialogue from "Til Death" with Brad Garrett (the brother from Everyone Loves Raymond):
"You never compliment me."

"What are you talking about? I complimented you just the other day."

"You told me I look like Weird Al from the behind!"

"Weird Al has beautiful hair and a tiny ass!"
The celebrity interviews featured folks like Kevin Federline, Madonna, Eminem and Justin Timberlake and were pieced together from outtakes à la Stephen Colbert. Yankovic spiced in questions that made the interviewees seem absolutely ridiculous.
"Polka Face" started the show.
One of the highlights of the show was this moment in the encore, where for about three full minutes in the middle of the fan favorite "Yoda" (to the tune of the Kinks' "Lola"), Yankovic and his band sang nothing but gibberish (except the word "PORK!) with choreography.
Click over to 3:45. You also have to make sure you hear Yankovic ask "Only the transvestites" in the audience to sing the chorus.
After the show, the were giving out these 11x17 posters of the DVD live show. I grabbed one, and I'd like to give it away to one of my readers who really loves Weird Al. Send me an email if you'd like it, first person who emails wins! alwaysmoretohear@gmail.com