Stevie with one of his insanely hot backup singers.
Another year
,
another Outside Lands Festival
in Golden Gate Park. I (happily, these things are tiring) didn't get there all three days, but was surprised with a VIP ticket to Sunday, which was the BEST day to be there. Two words: STEVIE WONDER.
But first things first. We got there early to see this Italian dude Jovanotti, who was SUPER fun. His fabulously hooky song "Tutto L'Amore Che Ho" was featured on the festival's site and I just had to see what his deal was.
Turns out this guy can rock a crowd, hard. His energy was infectious, reminding me of Manu Chao, like this video...
Toward the end Jovanotti popped down into the crowd (which was WAY smaller than what he usually plays for in Europe, I'm sure) and sang to us. Not bad for high noon. I enjoyed seeing the sort of folks who knew who he was, and would get to the festival so early to see him.
"We usually play for three hours" Jovanotti said in the cutest Italian accent, "So we're trying to give you the highlights in forty minutes!
After some fried pickes from the
Fabulous Frickle Brothers
, we came across Dr. Flotsam's Hell Brew Revue, returning bigger and better than last year. "It's an extraordinary setup, envisioned and handmade by an artist named Mike Shine and his posse of Carny Bastards to evoke a family carnival ambience." (
SFWeelkly blog
)
And guess who was playing? The Brother's Comatose (a fabulous local bluegrass band)! And I later found out that's where The California Honeydrops and Tumbleweed Wanderers had been playing all weekend, to pretty large crows! I'm glad that local bands got to play for the throngs in such a fun and quirky spot.
Then we caught some of Caveman's brooding set, who I became familiar with after NPR featured them on one of their
Tiny Desk Concerts
. I love that their guitars are made by one of the band members and I love that dude's outfit. (Yes, I had some fun with the color saturation.)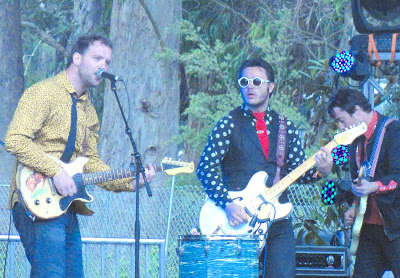 And then it was onto Amadou & Mariam. The other highlight of the day for me. I've been wanting to see this Malian couple perform live since I first heard about them in grad school. My afropop ensemble covered a couple of their tunes (with varying success, this music is complicated!) And they did not disappoint!
A totally oversaturated photo of Amadou y Mariam. With those colors I couldn't resist
And then it was onto Mr. Stevie Wonder. HOLY SHIT. It was all I could have wanted. I mean the dude walked out onto stage with a freaking KEYTAR. He played all the hits, even the corny ones. That's OK Stevie, we'll let that go, because you can do whatever you want. Really WHATEVER you want. You're Stevie Wonder.
He really did whatever he wanted. It was pretty obvious that the band was pretty used to Stevie changing the order of the setlist, calling out keys and songs, and teaching them (Beatles) songs on the fly. Everyone was having a ball.
Aisha Morris, Stevie's daughter is second from the right.
I was particularly mesmerized (as I often am) by his backup singers. Not only were they too hot for words, but Aisha Morris,
STEVIE'S DAUGHTER,
is one of them.
I heard that Metallica (who played the night before) was really fun, but I'll catch them next time. Two more artists checked off the bucket list: Stevie and Amadou & Mariam. w00t!
This is a cool photo of the Wine Land's tent. It's just purdy.