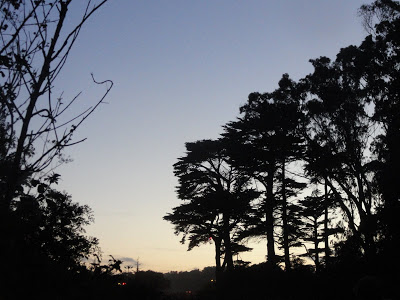 Saturday August 13th was just another amazing day in San Francisco, after the fog burned off in the afternoon anyway. There was a perfect breeze and the sun was out and I had music all around me.
We bounced back and forth a lot today, just following our mood. On the agenda was OK Go, the Arctic Monkeys, The Black Keys, The Roots and Muse if we felt like it.

OK Go
. I know the joke is that their music is nothing special, but I totally dig these guys for their continuous outpouring of creativity. Their videos are
obviously
incredibly
innovative
and
fun
, but they also do crazy stuff like play a whole song on the hand bells (like the video below). These guys are true artists and performers, in every sense of the words.
And let me just say that this might have been the one time in the whole of the weekend that I wanted MORE VOLUME.
Ok GO also cracked me up continuously calling the crowd a bunch of "dirty sinners", what San Francisco has always been known for. I can't say I disagree with them. He also mentioned how overwhelmingly white the San Francisco crowd is, can't disagree there either.
The Roots:
So fun. I wish I was Jimmy Fallon and have these guys has my house band. They paid tribut to Fela Kuti, Guns and Roses, Zeppelin and some "Jungle Boogie."
Girl Talk
: This is performance you really have to experience live to really get I think. Imagine all your favorite songs coming at you in enormous speed, sometimes only teasing you with one hook or one chorus. Some of the mash-up pairings are so awesomely funny. I need to get some of this for working out.
FOOD
:
I ate this (I did not eat it all myself, in fact we couldn't finish it, it was too insane):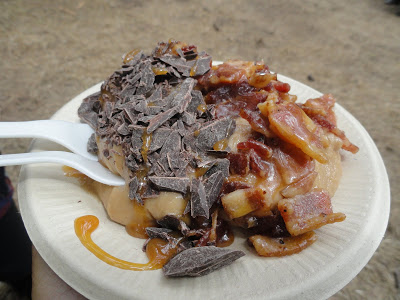 Good Lord, what is that you ask!? It's peanut butter mousse, chocolate fudge crust, candied bacon and caramel. Don't believe me?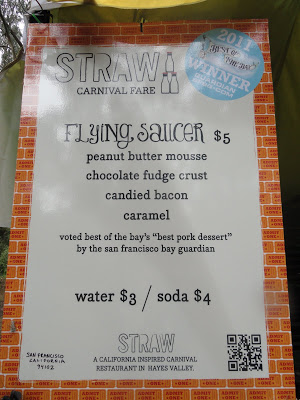 The couple across the picnic table was eating this chocolate covered Oreo, marshmallow stuffed thing. It was too amazing not to photograph.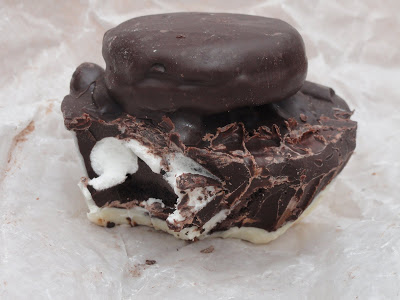 Later we also ate this from
Criolla Kitchen
: OMIGOD SO GOOD! Shrimp Po'Boy and Yam-Yam Tater Tots. I will definitely be visiting the restaurant in the Castro. Seriously... SO GOOD.
I did not eat this, but enjoyed the sign, imaging what these would be like: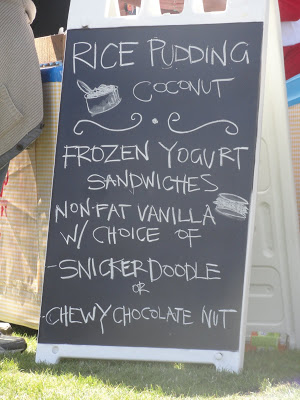 Like I said yesterday, there were a ton of fun things to do not appearing on big stages. I found out more about the "mimes" I had seen the day before . Not mimes at all. Turns out it was a folk opera and
installation
called
"Flotsam's Wake" featuring Mike Shine and the Carny Bastards.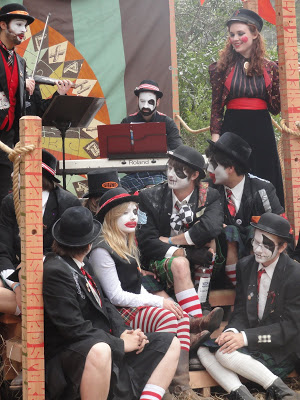 I enjoyed the banners in front of the Twin Peaks Stage. They were weird.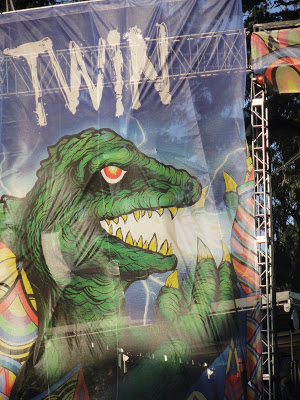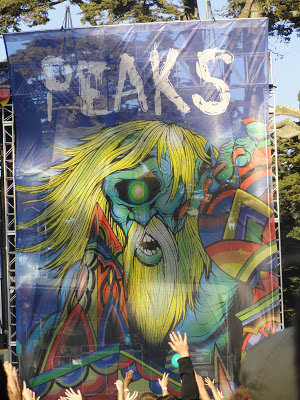 Theses lovely ladies practiced some yoga in front of us for awhile during the Arctic Monkeys and OK Go.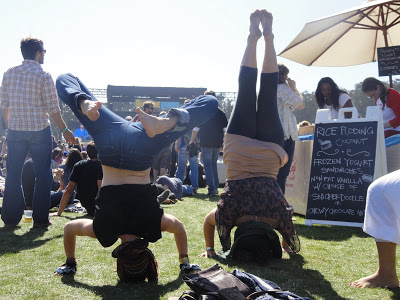 And an Australian sword swallower at the Barbary Tent. Crazy I tell you.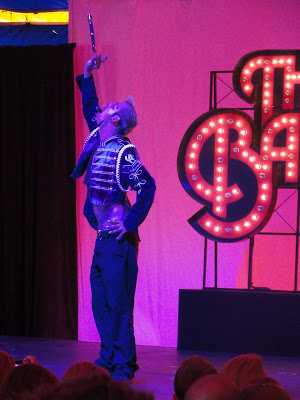 I'm skipping today's festivities to see Adele (rescheduled from last month when she was sick), which is okay by me, my feet are tired!