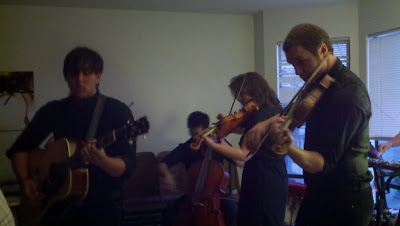 These are pictures of
The Family Crest
performing in my living room last Wednesday. There were nine of them. It was awesome.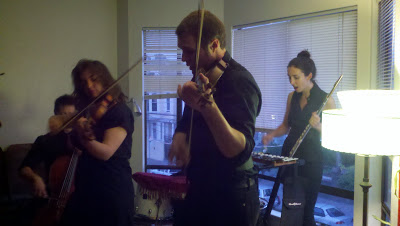 The Family Crest
is looking to play a house show a day in the month of September. It can be a big or small party, they just want people to experience their music. And believe me, this is the best setting for it: intimate and acoustic.
I will personally vouch for these folks, they are gracious and nice. I have now been part of hosting them in a private home on three separate occasions; they will come early to help you set up and stay late until everything is put away.
If you are in the Bay Area and are interested in hosting, here are the details (from the band):
Pick a few days in September that would be best for you
We're aiming to play for around 30 of your friends, though we will play for any amount, big or small. It can be a casual get-together, a party, a serious concert setting, a business fete - whatever you want.
We're not charging any fee, though we would like to pass a tip jar around or have a suggested donation, if you're comfortable with that.
We'd like to sell CDs.
We won't be promoting these shows in any way - we won't publicize your address, when/where, etc, so you won't have any strangers wandering around.
This means that we won't be bringing any of our contacts to the shows - this is just for you and your friends so that you all can become a part of what we do!
Let me know if you're interested, and feel free to pass this along to people you think might be interested!
Email Laura if you are interested, but please let me (Jamie) know as well, I might want to come!
laura@thefamilycrestfamily.com
And I'd imagine weekdays will be hardest for them to fill...what are YOU doing Tuesday night?
Below is video of The Family Crest playing at two different house shows (both homes belonging to friends of mine) in Austin during South by Southwest earlier this year when I got to sing with them...