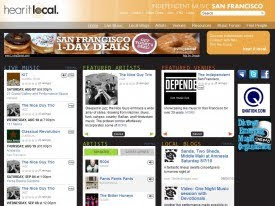 You're probably very aware of this
Hear it Local
thing I've been blathering on about. (If it's news to you, I just
posted a article
about it and the launch party on examiner.com)
But here are the vitals if you are able to come:
Wednesday August 18th at the
111 Minna Gallery
featuring performances by
Porto Franco Records
artist
The Nice Guy Trio
,
Quinn Deveaux
and
Kelly McFarling
.
Chasing the Moon
will screen its latest videocast of
Tartufi
. There will be music photography exhibits by
Niall David
and
Audra Marie Dewitt
and snacks by
BrokeAss Gourmet
. Truly a community effort and I'm VERY excited about it.
Always More to Hear is an official partner of the launch party and I've been asked to put together a playlist of local music for in between live sets and I've been having the best time rummaging through my sampler CDs and mp3 library looking for suitable music. Some you've heard before, some is brand-spanking-new (likes this fabulous Oakland band
Bang Data
) I'm going to post the playlist here for downloading! Stay tuned!
More info and RSVP on facebook here
I'm super excited to be part of making the Bay Area less overwhelming for live music lovers and I'm honored to be part of such a vital community of smart, creative and passionate people who can make something like this happen.
This is Chasing the Moon's Quinn Deveaux podcast: both will be in attendance on the 18th.
Quinn Deveaux @ Chasing The Moon 9.04.09 from Scott McDowell on Vimeo.