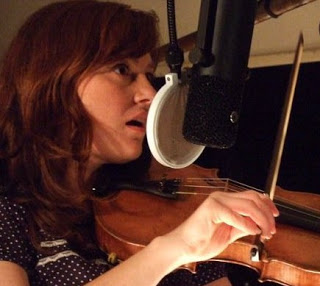 Every so often I like to brag about the people I know and went to school with. I have been so lucky to
know some amazing musicians and creative people
.
Dina Maccabee and I have crossed paths a number of times, we went to the same overnight summer camp in Southern California, both got music degrees from The University of Michigan and have ended up now living a couple blocks from each other.
Dina is a classically trained violist, but has been seen with a violin and even behind a drum kit. She currently plays with the quirky
Ramon & Jessica
and
Jascha vs. Jascha
She now has her own band, the
Dina Maccabee band
(and will be playing at
Cafe du Nord on July 8 in San Francisco
) You'll have to ask her how many bands she's in, your guess is a good as mine!
Chasing the Moon
is a San Francisco video podcast that features local bands. The current episode features
Ramon & Jessica
with partner in crime
Jesse Olsen
and accordianist
Marië Abe
.
Ramon & Jessica @ Chasing The Moon 05.27.10 from Scott McDowell on Vimeo.