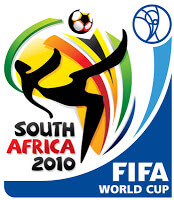 Yeah, I'm actually up early to watch the first World Cup Game between hosting country South Africa and Mexico.
My brother
is there covering the games (he works for Major League Soccer) and I'm going to South Africa in December, and I'm sure they'll still be talking about it, so I want to have some idea of what's going on.
I enjoy soccer for many of the same reasons I enjoy music from around the world. You can learn so much about the culture through that window. For that reason I find soccer, or football if you will, anthropologically interesting. We'll see how long it takes before I get back in bed though...
But there's actually been some cool musical things going on around the World Cup bringing out the best of Africa's current music scene (and some American pop stars, but I'm not going to mention them):
First: The opening concert was full of some of my favorite African musicians,
Angelique Kidjo

, (Kidjo will be performing at the
Stern Grove Festival
in San Francisco on June 20th),
BLK JKS
,
Tinariwen
,
The Soweto Gospel Choir
, Vusi Mahlasela
and
Vieux Farka Touré
.
This is South Africa's own
BLK JKS
(pronounced Black Jacks) a band that I can only describe as an African TV on the Radio.
Malian blind couple
Amadou & Mariam
:
To watch the opening kick off concert
click here.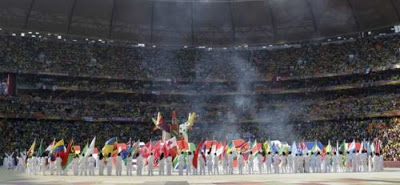 Second: The World Cup's Opening Ceremonies featured
Cheb Khaled
(seen) left, known as the "King

of Raï," an immensely popular form of Algerian folk pop. My brother interviewed him as a celebrity fan during his Sports Illustrated days,
read it here
(scroll all the way down to the bottom of the page). South African trumpeter
Hugh Masekela
and Nigerian
Femi Kuti
also performed at the ceremonies.
And finally, of course, I have to mention the national anthem of South Africa, "Nkosi Sikelel' i Africa" it's so beautiful. You'll probably be hearing it a lot in the next few weeks. Here it is.