This week I had the chance to see two amazing bands fronted by powerful women: My First Earthquake and Angelique Kidjo. I also finally figured out how to use my point and click camera to take semi-decent photos of performers (it's only been years).
Thursday, San Francisco's own My First Earthquake released their new E.P. Crushes at the Rickshaw Stop. I love Rebecca Bortman in her sequins, red gloves, red tights and a red scarf. Her dance moves are awesomely dorky and the way she handles heckling is superb. My First Earthquake has become one of my favorite local bands, and I don't use that phrase lightly.
See the video below: a fan made video. Note: the bee man was at the show and had fully functioning limbs. He was invited up to dance on stage with Bortman in thanks for being hit by a car for the cause of this video. We are grateful.
TO READ MORE AND SEE MORE PHOTOS CLICK HERE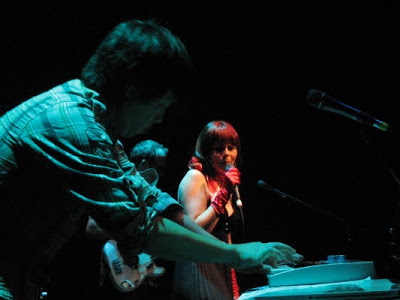 Dave Lean and Rebecca Bortman of My First Earthquake