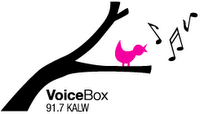 Almost a month ago, Matt Lombardi and I were invited to guest host on VoiceBox 91.7 KALW with Chloe Veltman to represent and talk about Hear it Local.
As a show/podcast focusing on the voice, I chose to feature a collection of female Bay Area singers that I love. The show was on the air last weekend as "Bay Area Bombshells". Listening to myself on the radio gushing about these women I find so inspiring was an interesting experience. I love radio and I hope I get to do it again!
To listen,
CLICK HERE
and scroll down to the bottom of the list to "VoiceBox"
Here's the playlist in case you were interested:
1) "Then It Starts to Feel Like Summer" by The SHE's, vocalist: Hannah Valente / Then It Starts To Feel Like Summer

2) "Float and Fall" by Meklit Hadero /

On a Day Like This



3) "Monkey Gone to Heaven" by the Pixies, performed by Conspiracy of Venus /

UnderCover Presents The Pixies' Doolittle



4) "Opa Cupa Fly" by Brass Menazeri Brass Band, vocalist: Bridget Boyle / V

ranjski San



5) "Many Seasons" by Kacey Johansing /

Many Seasons



6) "With You" by Dreams, vocalist: Emily Ritz

7) "Driving is Fun" by Dina Maccabee /

Who Do You Suppose You Are?



8) "Stay" by Crystal Monee Hall /

River Train



9) "Cadillac" by Con Brio, vocalist: Xandra Corpora /

From The Hip



10) "Our Little Secret" by Megan Slankard /

Token of the Wreckage



11) "Love For the Asking" by Kally Price

12) "Tore My Heart" Oona Garthwaite /

Shhhhout!