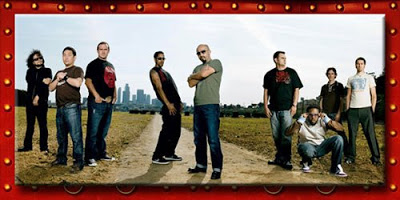 Ya Se Fue! Ya Se Fue!
I love NPR.  It's really the only radio station I listen to on a regular basis.  I used to listen to the radio a lot in high school, but now I usually just like to listen to my own music. But sometimes I really do find really
terrific community radio
that I like, but I have to actively go out and find it.  
NPR and it's regional affiliates, are the only stations I can stomach. It makes me feel smarter. Anyone else feel that way?  I know you do.
I also tend to think I have much in common with other folks that support National Public Radio. After working for
KUT
in Austin I have great respect for the folks that are in charge of the music programming.  I also know that their music tastes tend to be more under the radar than, say, oh, Top 40 radio.  But that's no surprise.
Last Thursday I saw Ozo play a reunion show with rapper 
Chali 2na
 (also of
Jurassic 5
) at the Fillmore in San Francisco. They put on an absolutely awesome show. I've seen them now probably 5 times in the last 10 years all over the country and have enjoyed them every time. Los Angelian based Ozomatli plays music that is somewhere between hip-hop, Mexican dance music and funk.  All I know, is that it's a massive dance party every time they play.
Anyway, if you like Ozo, or are interesting in getting to know one of the best under-appreciated bands of the last 15 years, check out this hysterical
interview
.  These guys love what they do, and they love each other, which always adds to the enjoyment and chemistry of a live show.
Also, today NPR released a list of
NPR listener picked best music of 2008
.  NPR's website has clips from each of these tracks, so if you are interested in what you may or may not have missed this year, check out this list. I believe there is a
podcast to download
as well. I haven't heard all of these bands, but most of them are pretty darn good.  I've hilighted some of my personal favorites.
I will also add some tracks onto the playlist. If you feel like it, leave your favorite album of the year in the comments, either on this list or not.  I'd love to know what you've loved this year.
I would add Gnarls Barkley's
The Odd Couple
.
1. Fleet Foxes -
Fleet Foxes
 "White Winter Hymnal"
2. Vampire Weekend -
Vampire Weekend
"A-Punk"
3. Bon Iver -
For Emma, Forever Ago
"Skinny Love"
4. TV on the Radio -
Dear Science
"Halfway Home"
5. Death Cab for Cutie -
Narrow Stairs
"Cath..."
6. MGMT -
Oracular Spectacular
"Time to Pretend"
7. She & Him -
Volume One
"Change is Hard" 
8. Coldplay -
Viva la Vida
 "Lover's in Japan/Reign of Love"
9. My Morning Jacket -
Evil Urges
"Evil Urges"
10. Flight of the Conchords -
Flight of the Conchords
"Business Time"
11. Sigur Rós -
Med Sud I Eyrum Vid Spilum Endalaust
"Inní Mér Syngur Vitleysingur"
12. Okkervil River -
The Stand Ins
"Pop Lie"
13. Beck -
Modern Guilt
"Chemtrails"
14. Kimya Dawson and Antsy Pants -  
Juno
(the soundtrack) "Tree Hugger"
15. The Raconteurs -
Consolers of the Lonely
"Many Shades of Black"
16. Girl Talk -
Feed the Animals
"In Step"
17. The Black Keys -
Attack & Release
"Psychotic Girl"
18. Conor Oberst -
Conor Oberst
"Lenders in the Temple"
19. Jenny Lewis -
Acid Tongue
"Acid Tongue"
20. Kings of Leon -
Only by Night
"Manhattan" 
21. Bob Dylan -
Bootleg Series
"Dreamin' of You"
22. Punch Brothers -
Punch
"Blind Leaving the Blind: 1st Movement"
23. The Hold Steady -
Stay Positive
"Constructive Summer"
24. Of Montreal -
Skeletal Lamping
"Id Engager"
Again, please leave your favorite music of the year as a comment.  I'd love to hear it whether it's Britney's new album (you know who I'm talking to) or 
Poison Apple Pie
.