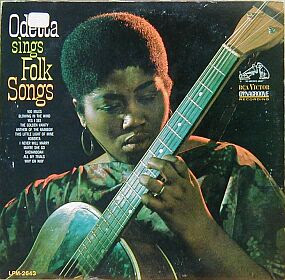 Odetta is an artist I've really never fully appreciated, simply because I haven't taken the time to check her out.  Unfortunately, she's never gotten the overwhelming popular support as Mahalia Jackson, Pete Seeger, or even Nina Simone (although Simone is more popular in death than she ever was in life).  But after hearing some clips of her performances on NPR last night reporting on her death, it is her powerful voice and exquisite lyrical phrasing that has drawn me in to learn more about her.

I knew of Odetta through my time spent interning for
Smithsonian Folkways
, and I knew she was very influential in the folk world and I knew she must have been instrumental in the civil rights movement simply due to being a black female in the 50s and 60s. This is probably also what kept her from being as well known as she should be.  She had continued to perform up until last summer when she developed kidney trouble.
In 1963, Odetta sang at "I'm on My Way" at the historic March on Washington, D.C. where Martin Luther King gave his "I Have a Dream" speech.  She is known to have wanted to perform again in Washington in January at Barack Obama inauguration.  I think it is a blessing that she at least lived to see his election; a direct result of the Cause she had been fighting for for most of her life.
Unfortunately the video and audio clips available to link to here aren't as awesome as what I'd like, but hopefully you'll get an idea of the power of the voice of Odetta.  You might be able to hear what a great influence on folk singers ranging from Bob Dylan and Peter, Paul and Mary to more contemporary singers like Tracy Chapman.
Read about her life
here
.
Watch this performance of "What a Friend We Have in Jesus" with Tennessee Ernie Ford.
And this neat Led Belly inspired (specifically the percussive "Pah!" vocal sound) performance of "Water Boy".
I've also added some songs to my playlist that I hope reflect her power and dignity as a performer and singer. Unfortunately there wasn't much to choose from on the playlist site that I use.