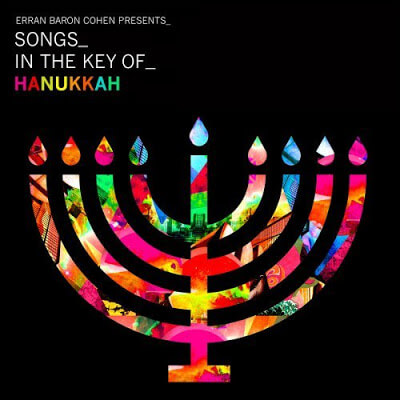 In honor of the last night of Channukah (and not a moment too soon) I bring you the best Channukah music ever (even thought that's not saying much, most of it is pretty lame)
Erran Baron Cohen
's
Hanukah Songs in the Key of Life
. (And for those of you that don't know, there is no correct spelling for Channukah/Hanukah, it's whatever you prefer.)
Sorry this is coming at you with a whole year to go at this point, but it's worth it.
Erran Baron Cohen is the brother of Sacha Baron Cohen (
Borat
,
The Ali G Show
, etc.) and composed for his brother's show and movie.  He was recently commissioned by the Kazakhstan Philharmonic Orchestra to compose a piece for them after the release of his brother's movie
Borat
. Cohen studied Kazakhstani folk instruments so that he could incorporate them into his piece.
This is Cohen, Jules Brookes and
ha
sidic rapper Y-Love
on the Conan O'Brien Show. Y-Love feel styles in Arabic, Hebrew, English, Yiddish, Aramaic, and more.
The rest of the album consists of covers of traditional Channukah songs and originals featuring vocalists Idan Raichel (an Israeli artist that I hold near and dear to my heart and will soon blog about),  Avivit Caspi, Dana Kerstein and Yasmin Levy.  The musical stylings range from Middle Eastern to klezmer and hip hop to rock.
Check out his interview on NPR's "Fresh Air" 
here
. 
I've also added "Dreidel" to my playlist as well as the tune "O Kazakhstan" that Cohen composed for the movie Borat, just because it's hilarious.