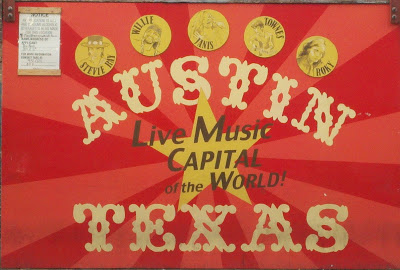 This mural on Sixth Street should say "self-proclaimed Live Music Capital of the World", but whatever, we love you anyway. Love the little buttons on the top there of Stevie Ray Vaughn, Willie Nelson, Janis Joplin (who spent like a year in Austin, but shhh), Townes Van Zandt and Roky Erickson.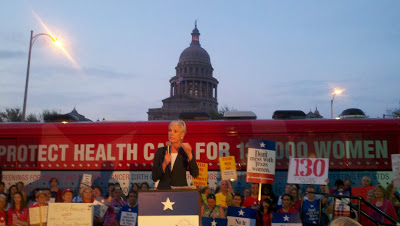 I was super excited to catch a Planned Parenthood Rally right next to the Texas Capitol building (I LOVE that building so much). Texas-born President of PP Cecile Richards made it out for this rally, along with powerhouse Congresswoman
Dawnna Dukes
. There were performances by Marcia Ball, Carolyn Wonderland, Jimmie and Dale Gilmore.
Pro-lifer Rick Perry has shut down dozens of Planned Parenthoods in Texas, saying "no" to federal money. There were protesters across 11th St., one male high schooler had a sign that said "Don't' believe their lies". It broke my heart a little bit.
And on that note, this is a random sign I liked a lot.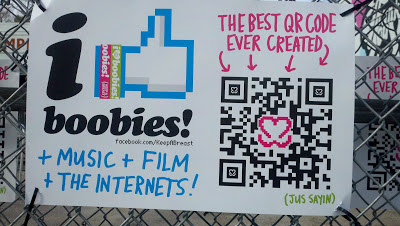 At one point while walking down Sixth Street late at night, I thought to myself "there really is a distinct smell to this place that I would recognize anywhere". It's sausage, mixed in with sweaty people and beer. Tasty, right? I've eaten at BestWurst a few times in my years in Austin. That stuff is good at 2am. Smells like freedom. Tastes like Texas.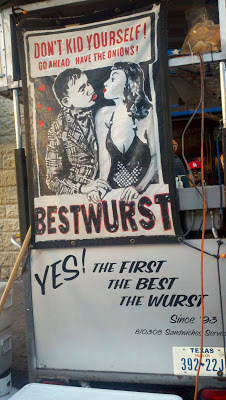 Yes, that is a guitar squid costume. I think someone off camera is climbing a tree.
I went to a Family Friendly show at an Organic Farm with ducks and chickens and saw
Mother Falcon
(again), and Japanese comic action punk band
Peelander-Z
. What Awesome fun NUTTY NUTTINESS!
My favorite song? WHY SO MANY MIKE? hahaha.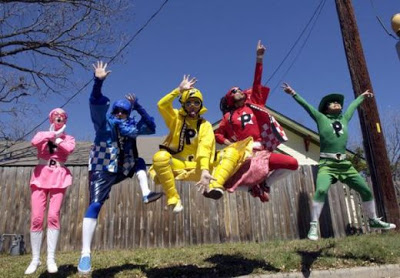 I did not take this photo, but you have to see these costumes.
And then there was my
Okie Heights Hootenanny
, which was a huge success. The bands had a great time, Elaine and Brian rented a bouncy house for the kids, all of the beer and milk was gone and we raised $500 in tips for the bands. It was great.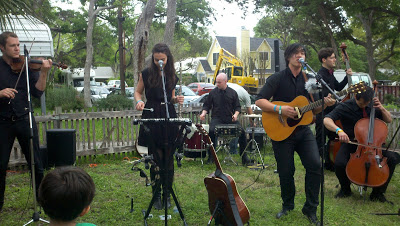 The Family Crest
rocks the house... uh yard, as always. (See the yellow bulldozer behind them, yeah, it had just knocked down a house the day before and was still working that morning, but it quieted down before the bands started to play.)
This photo comes from
Mashable
of Backwords from Brooklyn (yeah, my party made it to Mashable). The caption read:
"Slightly off the beaten path, we had one of our most relaxing, best shows this year. Front lawn, sun shining, beautiful trees and cactus all around and people just lounging out. Cans of Lone Star on ice in the turtle-shaped sandbox nearby."
So awesome. The Backwords folks were so nice.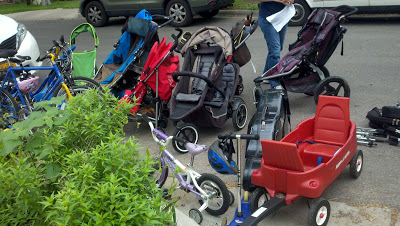 Stroller parking lot. Love this.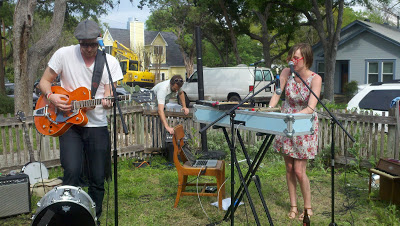 The ADORABLE
Bella Ruse
from Minneapolis. She played the typewriter and had kazoo solos. That's
Marcus
in the back futzing with the speakers. He helped us book the bands and took care of the sound system. He's awesome and we thank him enormously.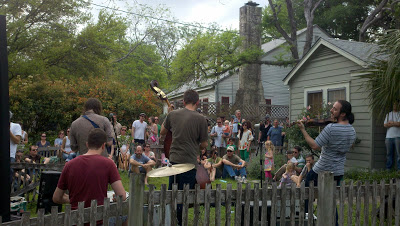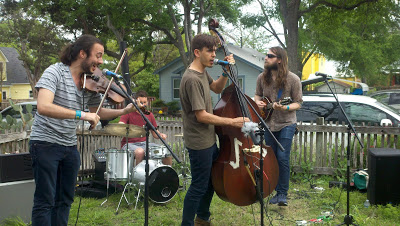 Miracles of Modern Science
(or the "taped up F-holes") have the instrumentation of a folk or bluegrass band (fiddle, cello, mandolin, drums) but sound like a rock band. This band is super excellent.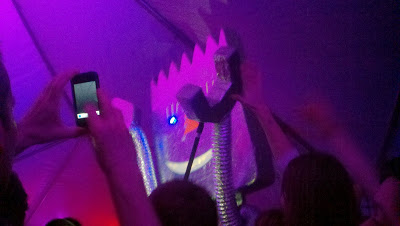 Awesome puppets at a
Rubblebucket
show. This might have been one of my favorite new finds, imagine Flaming Lips zaniness, but with a horn section. And the lead singer lady doubles on baritone saxophone, which of course is super appealing to me.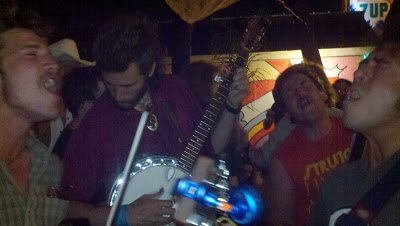 Man, I wish I took this photo of the Austin bluegrass band Whisky Shivers with a better camera. My cousin has been talking about them sing
Hardly Strictly Bluegrass
last year. Here's a pretty weird and awesome video from them.
That's it folks. Jamie's headed to New York City tomorrow morning at 7am. Gotta be up in 4.5 hours.