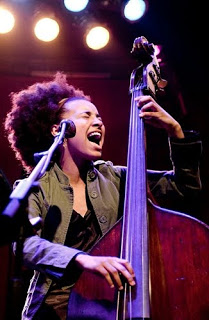 I first saw Esperanza Spalding open for Dianne Reeves three years ago. All I remember from my crappy seats is a young black woman with huge hair and enormous talent.
Three years later she is still at it, performing for the White House, the youngest professor at Berklee School of Music and already reinventing herself musically with each album and concert tour.
I am enthralled by this woman. She is young, she is of mixed race, she is ridiculously talented and, I'm going to say it, makes a HUGE statement wearing her hair this way. Whatever it is, I dig it and I hope that people are paying attention (especially young women).
(I really hope that SFJAZZ didn't pick
this season's image
based on her, but then changed the hair just to suit their marketing material, that would seriously bother me.)
Spalding's career has just begun and I think it's obvious that she's here to stay.
READ MY REVIEW OF HER CONCERT AT DAVIES SYMPHONY HALL HERE