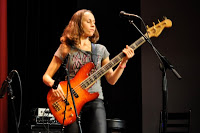 Here's a review of a singer/songwriter showcase at Yoshi's SF from last night produced by my friends at
Bay Vibes
who do amazing organizational and promotion work for the Bay Area music community.
<-- I do want to point out that Veronika Safarova, Valerie Orth's bassist, was totally rocking my world at this show. This is why I'm taking bass lessons.
READ MY REVIEW HERE
Just to share: I'm still struggling with reviews in general, but I'm getting better! Meaning: I keep doing it! I hope I'm getting better. And the more I do it, the better I will get. For many reasons reviews are harder for me to write than anything else. (I really just want to support musicians and spread the good juju and many of the people I talk to struggle with this), and I'm still struggling, and will probably continue to do so, with how to balance my opinion of the good with the bad in a critical way. (See this challenge of writing a
review of a musical
I was super disappointed with). It's also a tricky balance when I'm highly involved in the community I'm writing about. I'm figuring it all out.
Have any of you noticed anything about my writing or just have words of advice, encouragement or critique? I welcome them.