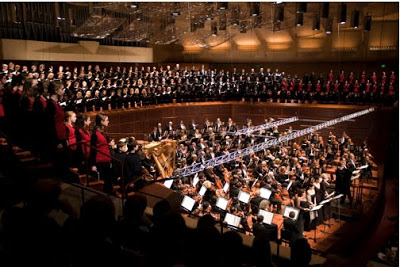 A photo taken in Davies Symphony Hall (for Mahler 8) a little further to the right from the spot I'm taking about. We were sitting where those kids are on the left. (Photo, Kristen Loken Anstey)
Who wouldn't want to see the conductor hit himself in the face with his baton?
Thoughts that passed through my head last night at Davies Symphony hall seeing
Semyon Bychkov conduct Ravel's

Le Tombeau de Couperin

and Rachmaninoff's

Rhapsody on a Theme of Paganini
:
What does the pink post-it note in the conductor's Rachmaninoff say. ("Remember to queue violins?" "Turn off stove?")

That trumpet player is really hot.

What is that fidgety oboist smirking at now?

That timpani player is being really anal and working really hard to keep them in tune.
The best thing about these seats may not be the sound (I've been told that it's not so great, but I actually liked feeling like I was right in the action), but the visual aspect of the individuals on stage.
I think that's one of the things that's been taken away from the symphonic/orchestral experience for the audience. When you're sitting so far away, you can't SEE anything. I don't know about you, but I love this music and my mind still wanders when I'm listening to it: I get hit by the tired stick and I want to take a nap. But if my eyes as well as my ears are stimulated, it's WAY MORE INTERESTING and I stay more alert and focused on the performance.
And if you still get bored you can count the sleeping people out in the audience.