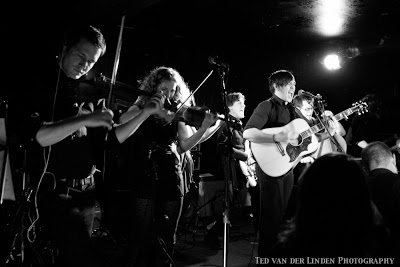 At the Cafe du Nord CD release, January 22 - Owen Sutter: violin , Sarah Dabby: viola/vocals, John Seeterlin: bass, Liam McCormick: vocals/guitar (photos: Ted van der Linden)
The Family Crest
because they signed up on
Hear it Local
(see folks, it works!) and fell in love with their sound. Not only do they combine classical and rock, which is something I always can appreciate, they also invite dozens of people to perform with them, including a choir. I definitely want to join!
I also want to say that I'm always glad to see some diversity in a band, especially diversity that represents its own city and community. So yes, I'm glad to see that there are two Asian guys, Liam McCormick and Lucas Chan, in The Family Crest.
Read my review of their new full-length album "The Village" and CD release here.