Last night I had the pleasure of seeing
Julia Nunes
play live at the Swedish American Hall in San Francisco. Since I showed up with Jack Conte of Pomplamoose, I got to meet her backstage before the show. This East Coaster told me that she had never been to In-N-Out before, so I offered to take her after her show. Like I NEED and excuse to get to In-N-Out. I know I've lived back on the West Coast for two-and-a-half-years, but it's still a novelty.
The show was so fun. Julia's stage banter, like her online humor, is very self deprecating. When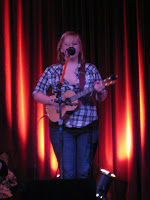 seeing her sing live you really get to hear the power of her voice. Her songs are pretty straight up pop songs played on the guitar (which she has decorated with black sharpie marker and blue guitar strings) and two different ukuleles. I really enjoyed her random stories about meeting strange characters at the airport and witnessing her first rate beat boxing (but she might want to not quit the uke, *wink*).
Julia is the #27th most subscribed to musician on
youtube
and has some of the most loyal enthusiastic fans out there. After getting rockstar parking right outside the Swedish American Hall a good hour and 45 minutes before the opening band was supposed to go on, I spotted three fans hanging out on the sidewalk playing cards on the cold Market Street sidewalk. Yup, they were Julia Nunes fans and they wanted front row seats.
Julia has just released a new EP called "I Think You Know" and it was produced by Jack Conte and Nataly Dawn of Pomplamoose. I was playing it in the car on the way home last night and just couldn't get enough of the vocal harmonies of "Through the Floorboards." Theses songs have got Nataly Dawn's vocal arrangements written all over them. They are just gorgeous. I also love the song titled "Grown a Pair" written about a guy one of Julia's friends was dating.
If you are somewhat in the dark about what this youtube-musician thing is, check out the videos below. Julia makes them in her dorm room with her college friends. These two are pretty special, as most of them are just her and her uke in front of the computer. But these two are way more intricate. Watch her silly banter after the song is over. This video of "Binoculars" consists of video she asked her fans to send in which she edited together.
Julia is heading up to Seattle tomorrow and then to Minneapolis and Chicago.