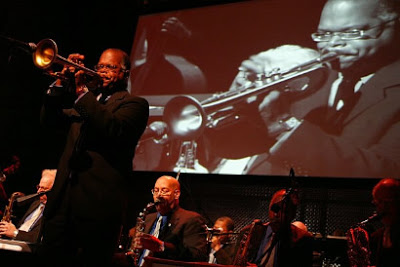 "It's like touring with your grandpa, or great-grandpa! But they swing just as hard" says singer Carmen Bradford

Saturday night I was down in San Diego for work and wanted to take my 16-year-old cousin out for a nice evening. Going to the movies didn't seem special and she's not the kind of kid I would take to an all-ages punk show. And lets face it, I didn't want to go to a punk show either. I saw that
Anthology
is all-ages and that the
Count Basie Orchestra
was rocking the house for two nights. This legendary Kansas City big band is swinging towards San Francisco and will be performing on May 30th at Davies Hall with Kurt Elling as part of the
SFJAZZ spring season
.
Celebrating their 75th anniversary, the Basie Band has never sounded better. It's obvious from the smiles, the goofiness, mutual encouragement and choreography (the trumpet section has it down) that these guys thoroughly enjoy themselves on stage. And with songs titles like "Fun Time," "Way Out Basie," Right On Right On" and "Cute" a good time is guaranteed.
Some members of the Basie Band are new, yet the majority of the sound still swings from musicians handpicked by Count Basie himself. I would guess that at least 75 percent of the band is over 50 years old. Bill Hughes is the current director and has been in the band since 1953. That's pretty incredible if you ask me. Basie hired singer
Carmen Bradford
in 1982 when she was 22.
TO READ THE REST OF MY ARTICLE CLICK HERE
The Count Basie Band makes an appearance in Mel Brooks' 1974 film
Blazing Saddles