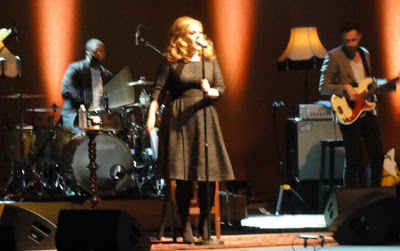 "Heeeyyyy! That's my new thing!" Said Adele after cracking herself up for the umpteenth time to a sold out Greek Theater Sunday night. "I've been spending time hanging out with some Southern ladies!"
When she sings, it's inconceivable that the British soul singer is only 23. She's got that Otis Redding thing going: a voice too wise and mature for her years, both lyrically and sonically.
But when she banters and giggles with the audience, she is indeed just 23. Adele loves her fans. She asked several times for the lights to come up so she could see everyone. She waved dozens of times at specific people in the audience. She accepted a Weiner dog stuffed animal and presents from folks in the front, including a couple phones with messages on them.
Adele is looking good. Not that I didn't love her more curvy appearance (go girl!), but she appeared on stage in a fitted black knee length dress, three-quarter length sleeves, her hair in it's signature poof, but only half up (no side ponytail). I hope that it's not just the stress of touring, but a healthier lifestyle that's done it (tell me she's quit smoking). But, well, she is 23, and I shouldn't judge.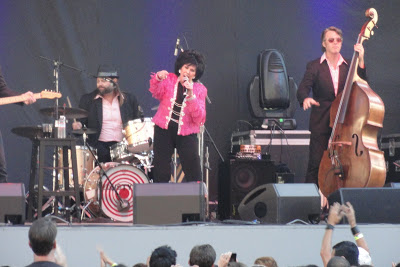 Mrs. Wanda Jackson - the Queen of Rockabilly