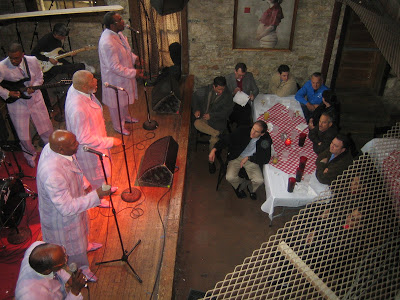 The Shields of Faith perform at Gospel Brunch - Stubbs in Austin, Texas
In 2006, I wrote a 100 page book in partial fulfillment of my Master's Degree in Ethnomusicology (the anthropology of music) about Gospel Brunch in Austin, Texas. It's called "If Church was like this, I'd go Every Sunday". For the last five years, it's been sitting in the University of Texas at Austin's library on a CD (they didn't even make me print it).
About a month ago, I was finally inspired to actually print the thing out. I made two copies: one for me and one for the Austin Public Library. On my visit to Austin, I saw the record, it's officially in the system!
I've also posted it for download if you were so inclined.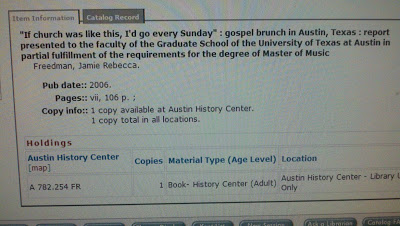 My Masters report on official record at the Austin Public Library
Why Gospel Brunch? Every House of Blues across the country has an brunch buffet and gospel show every Sunday morning. And other than a couple other venues (like the Cotton Club in New York) the House of Blues is about it... except in Austin, where there are three every weekend.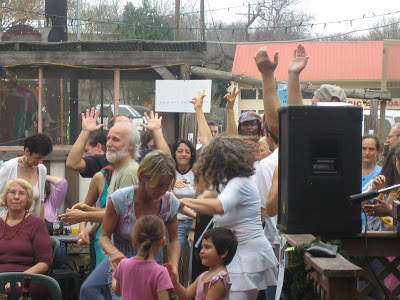 Maria's Taco Express Hippie Gospel Church in South Austin
The research for this paper was really fun, every Sunday morning I would head down to one of three spots:
Stubb's
,
Threadgill's
(the South Austin location) or
Maria's Taco Xpress
(the old location). This little Jewish girl would settle into some good food, booze (sometimes) and music about Jesus.
The three venues couldn't be more different. As you can see from the photos, Maria's is full of wonderful dancing hippies and the bands are mostly non-religious bands singing Bob Dylan tunes, traditionals and spiritually themed original songs. Stubb's is more likely to hire Evangelical bands coming from the Salvation Army. Threadgill's was somewhere in the middle. It was fun to compare and contrast the venues.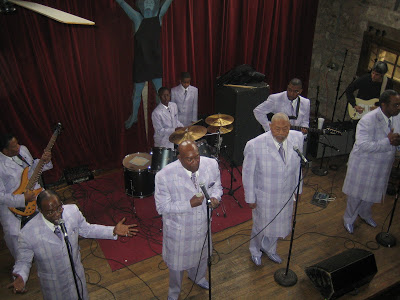 The Shields of Faith perform at Gospel Brunch at Stubb's
One chapter is about the City of Austin, and why it has grown to be a cultural and liberal oasis in one of the most conservative states in the country. I even got to mention Janis Joplin's brief stint in Austin before she headed to San Francisco.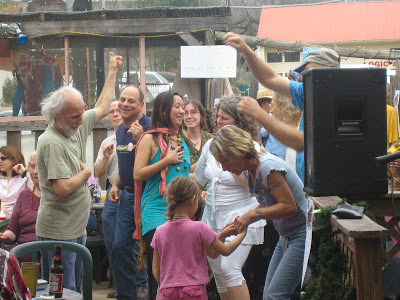 I wrote a chapter on the history of African American scared music outside of the church. One of the more interesting examples I discussed was how Northern abolitionists used African American spirituals for humanitarian purposes pre-civil war. From the Tuskegee University Choir to Ray Charles changing gospel tunes into secular ones, there is a pattern of African American sacred music being used outside sacred spaces for various purposes. Pairing the music with a brunch buffet on a Sunday morning is no exception.
One of the wonderful things about being an ethnomusicologist is talking to people. Through hours of interviews I found out why Austinites would come to these venues on Sunday mornings to listen to religious and sacred music, instead of being at church.
I was curious as to why Evangelical musicians would leave the church and perform in secular venues for beer drinking heathens (my words!) and why non-Christains like myself are so drawn to this music.
One of the more interesting moments of my research was when an 80-year-old reverend told me in an indirect way, that as a non-believer, I was going to hell. But, and I really do say this in most sincere way, he meant it in the nicest way possible (as someone who I saw being genuinely concerned for my soul). It was at that point that the hour long interview ended and we went to a fish fry. It was a relief.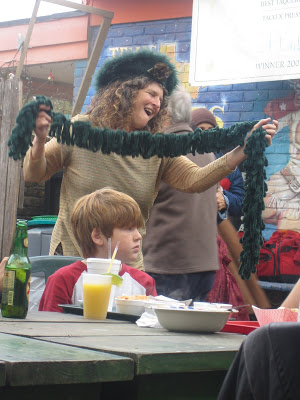 Rose, my favorite Hippie Church dancer at Maria's Taco Xpress.
Just last Sunday, I headed down to Threadgill's for Gospel Brunch. I'm glad to see Gospel Brunch at all three venues is still going strong, and six years later, many of the same bands are still in rotation. The food is good and the music is great. What else could you want on a Sunday morning?
Anyway, if you are at all interested in check out my report, you can download the pdf here, or get a hard copy from the Austin Public Library.