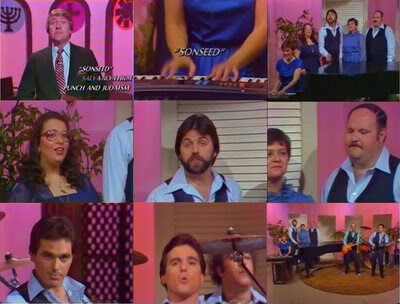 For those of you who haven't seen
this video
yet, PLEASE do yourself a favor and watch it. I don't care if you are Christian or not, either way, this is one of the best things I've seen in a long time. And thank you to
Dougsploitation
for finding this in his collection of VHS and posting it on the web.
Introducing Sonseed and their number one hit "Jesus is My Friend": the best Christain Ska band in the world! Too bad they could cross over into the mainstream like Creed or
Jars of Clay
(who I happen to like). Did you know that according to wikipedia, there are
dozens of Christian ska bands
. Who knew?
As a good friend said, there is so much to say about this video:
- The hairdo's, clothes and backdrop. I love pink and blue, don't you? The 70s were fantastically pastel!
- The lyrics:
He taught me how to praise my god and still play rock and roll.




Once I tried to run, once I tried to hide,

But Jesus found me and touched me deep down inside.




He is like a mounty, he always gets his man

and he'll zap you anyway he can.






- The realization that this is actually catchy and the band is totally tight!
- Watch the guitarist. He's totally rocking out.
And last but not least...
- Gotta love those backup singers. Especially the glasses.
- The tv host calling the performance "beautiful" at the end.
For those of you who want more Sonseed, you can download the entire album
here
. I honestly haven't listened to it yet, but when I do, I will get back to you.
For those of you who want to here some "traditional" British Ska, here's
"Too Much Too Young"
from the Specials.