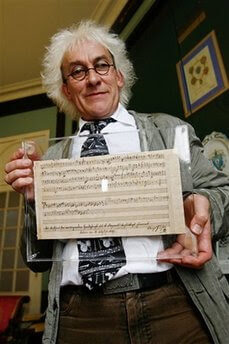 Check out this v
ery cool story
 about one of my favorite rockstars.  A single sheet of a melody sketch handwritten by none other than the great Wolfgang Amadeus Mozart was found deep in the bowels of a French Library in the town of Nantes. 
I love this Einstein-lookin
g guy too (
Nantes vice-mayor Jean-Louis Jossic)
, don't y
ou?  He must be completely over the moon about this. Check out his dorky musical tie!! Love it.