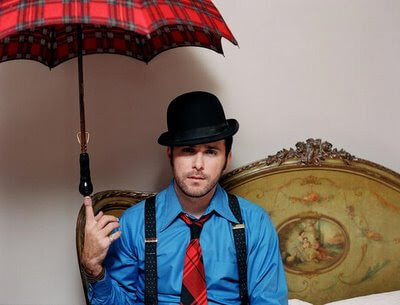 The sad and melodic Greg Laswell has the honor of being my first entry for this new blog.  
If asked to describe his sound to folks that haven't heard him, it would  have to be like if
Duncan Sheik
was the lead singer of Coldplay.  With his painfully sweet lyrics, driving piano rhythms and subtle production quality, Greg's music got under my skin and "forced" me to buy his two albums and E.P. on amazon.
Just this evening, I had the opportunity to see the San Diegan native play a live set at the
Cafe du Nord
in San Fransisco.  Other than the loud German (could have been Austrian, not sure) girls talking loudly right behind me and talking flash photography, it was a wonderful show.
With just one other musician, an exquisite quitarist whose name I believe is Brandon, Greg played several songs off his new album
Three Flights from Alto Nido,
which I discovered was the location where most of the songs on the album were written.
I spotted Greg right before his set on the way out for a cigarette and had a nice quick chat with him.  Trying to not sound like a stalker (probably a good thing I didn't mention that I spent a good amount of time watching everything I could on youtube with him in it), I was able to share that this
myspace fan site
plays almost all of his music in its entirety.  He said he didn't mind as long as people were listening to it.  So you have his approval, don't feel bad that it's free, take a listen.
I first heard the song "How the Day Sounds" on the monthly 
Paste Magazine
CD sampler, a magazine whose musical taste I greatly respect.  And like I said, I was immediately hooked. Because Greg produces as well as makes his own music, his recordings have a sophisticated yet subtle production quality to them.  At his show he described "How the Day Sounds" as the happiest sounding song he's ever written that actually isn't happy at all.  It ends with these lines:
I think I like how the day sounds through this new dawn.

And the lines have all been drawn,
Check out the the
awesome video
starring Greg, guitarist Brandon and great supporter of independent music Elijah Wood, who
has his own label,
 dancing around a grocery store in hipster suits and hats with glass soda bottles. 
Moment to listen for:
The cool vocal echo effects on "way down" during the bridge, around 1:35.
It's well worth the time that it's taken to get here now






October 24, 2008.  Greg's "And Then You" was featured last night on
Grey's Anatomy
(as annoying as the show is, I can't stop watching it and it DOES propel unknown artists into a new level of success). The album cover was also flashed for a couple seconds at the end of the episode.  It's of course become Greg's most popular songs on itunes.  
He's going back on the road, so check out his tour schedule. I already have my tickets back at Cafe du Nord on November 3rd in San Fran.
Congratulations Greg! I see big things happening for you in the near future!