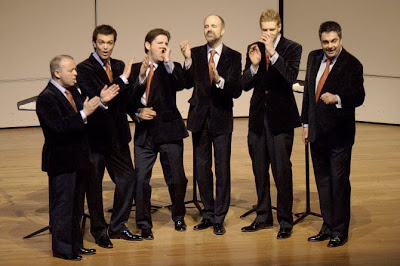 The "Seattle Times" wrote: "Listening to the King's Singers is just about as much fun as you can have in public with your clothes on!
"
The King's Singers are SO English. And what I mean by that is that they are classy and silly all at the same time. And the silliness is so subtle with a look or a small movement. Some of these guys are so dignified as classical singers, but all they need to do is look at the audience and wink, or raise their eyebrows and send everyone into hysterics. Tenor, Paul Phoenix, is the most fun to watch as his whole body moves and bounces as he sings (see, look at him third from the left in the photo above). Dressed in dark velvet blue sports coats and light pink ties, even their wardrobe reflects this attitude.
The first half of the concert was full of classic madrigals including my fav by Monteverdi (
see yesterday's post
). They also performed a commission that was written by Bay Area composer Gabriela Lena Frank called "
Tres Mitos de Mi Tierra
, or
Three Myths of My Land"
which was full of insanely impressive and difficult rhythmic devices that made my jaw drop. When the piece was over Frank, who was sitting in the audience, hugged each and everyone of them. You could tell she was absolutely delighted and adored them personally.
In the second half, the King's Singers lightened up the vibe with Randy Newman's "Short People" (yes, we're looking at you David Hurley - so cute!), Billy Joel's "Lullabye (Goodnight My Angel)" (listen below), and a Harry Connick Jr. tune.
I even spotted
Jace Wattig from Chanticleer
and chatted with him for a little bit during intermission. My friend and his friend bonded over their experience singing collegiate a cappella at Brown University. As always, it was a fabulous time.
I thought since my last week has been musically full of Billy Joel and the King's Singers that the signs are telling me to bring the two together and share this video with you: The King's Singers perform Billy Joel's "Lullabye (Goodnight My Angel)" arrangement by Phillip Lawson.