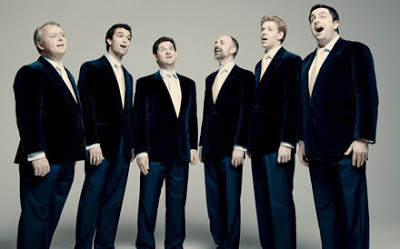 When I was in high school, I was not into Green Day, I was not into the Backstreet Boys, I was a fangirl for The King's Singers. I was choir nerd. Maybe not so nerdy like Rachel in
Glee
, but I loved professional and amateur singing groups like Chanticleer and a cappella college choirs.
The King's Singers have been the preeminent ensemble in the world for a cappella. Tomorrow night I get to see them live for the oh, maybe seventh time? I'm not kidding. I know for awhile there I was seeing them every time they came through Los Angeles in high school. I've also seen them in Ann Arbor, Michigan and in Washington, D.C. I've waited to meet them after shows and asked them sign books and CDs for me. I've also gotten to watch them teach master classes with community and high school groups.

Like I said, I'm a fan.
Wednesday night San Francisco Performances present The King's Singers at the Herbst Theatre. The program is entitled Myths, featuring the premiere of a piece by Bay Area composer Gabriela Lena Frank [read an interview with her here], as well as works by Bennet, Schültz, Weelkes, Saint-Saëns and one of my favorite madrigals by Monteverdi called "Si Ch'io Vorrei Morire" [Watch it below]

Written in the 17th century, the text is sizzlingly sexy:
Si ch'io vorrei morire
(Yes, I wish to die!)

Hora ch'io bacio amore la bella bocca del mio amato core
(Now I lovingly kiss the beautiful lips of my heart's desire)

Ahi car' e dolce lingua datemi tant' humore che di dolcezz' in questo sen m'estingua
(Ah, dear and sweet tongue, give me such passion that your sweet breast might quench my desire)

Ahi vita mia, a questo bianco seno deh stringetemi fin ch'io venga meno
(Ah, my life! Press your ivory breast against me that my desire might be satisfied)

Ahi bocca, ahi bacci, ahi lingua, ahi lingua torn'a dire
(Ah, lips, ah, kisses, ah, tongue, give me your passion)

Si ch'io vorrei morire
(Yes, I wish to die!)

READ THE REST OF MY ARTICLE HERE