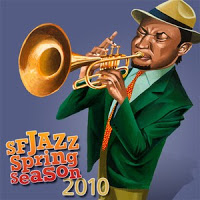 The SFJAZZ fest is one of the most reliably exciting festivals I've come across in this country. The variety of talent that comes to the Bay Area from across the Bay and across the globe is astounding. When I first picked up the brochure for the 2010 Spring Season, my jaw dropped: Joshua Redman, Bobby McFerrin, Keith Jarrett, Dianne Reeves, Ladysmith Black Mambazo... the list just goes on and on.
There are festivals like the New Orleans Jazz & Heritage Festival where the word "jazz" seems like it's either a guide for picking music or a remnant of another era. SFJAZZ is both. I would say that music in the jazz idiom is in the majority of SFJAZZ performances, but the idea of "jazz" has been stretched to include R&B, Afropop, Fado, Samba and singer-songwriters.
As a lover of international music, innovative musical fusions and straight up good musicality, I wanted to shine my humble spotlight on some of the 2010 SJFAZZ Spring Season's acts that might be a little more obscure and/or interesting.
READ THE REST OF THE ARTICLE HERE: my picks include Malian Tinariwen and Salif Keita, South African Ladysmith Black Mambazo, Singer/Songwriter Raul Midon, Saxophonists Joshua Redman and Pharoah Sanders and Kurt Elling and the Basie Band.