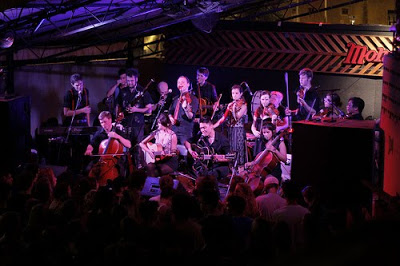 Mother Falcon (playing a previous show at Mohawk)
Just got into Austin yesterday morning, and last night I found myself with members of the Family Crest at the
Scottish Rite Theater
to see indie rock orchestra
Mother Falcon
.
Mother Falcon consists of dozens of members, with an ever rotating cast of musicians. Their music is something between the twee Sufjan Stevens and the exuberance of the Polyphonic Spree.
In an interesting converging of worlds, my friend Emily Marks who started the Austin Girls Rock Camp, now works as the Executive and Artistic Director of the Austin Scottish Rite Theater. It's the oldest theater in Austin, and with constellations painted on the ceiling and classy old school lounges encircling the theater space, it's gorgeous.
Take the visual tour
here
, link on lower left
Emily was hired on to bring new life into the theater, bringing in folks like Mother Falcon and Of Montreal. A year ago, after telling her about the Family Crest, she turned me onto Mother Falcon as a good pairing of bands.
First getting together as most high school kids, the age range is somewhere in the vicinity of 17-25. Members have ventured to other cities and come home for spring break to play. What's funny is that they, like the Family Crest, wear mostly black with highlights of red.
Issue #4: Sanctuary - Mother Falcon from Daniel Fabelo on Vimeo.
P.S. Already had Torchy's Tacos and some beers at Casino el Camino. It's going to be a fun week, and technically, the music portion of the festival hasn't even started yet.