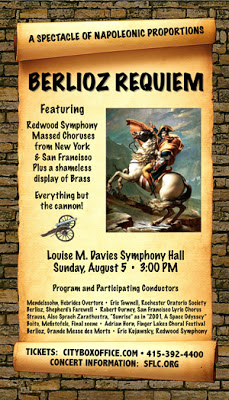 Next Sunday, August 5th at 3pm I will be performing one of the coolest pieces, the Berlioz Requiem, at Davies Symphony Hall with 250 other singers (San Francisco Lyric Chorus), the Redwood Symphony Orchestra and FOUR horn choirs.
The horn choirs are going to be placed in various corners of the hall, SURROUND SOUND.
I'm so excited about it. It's going to be so kickass. Loud. Dramatic. So rock and roll.
Also on the program is that awesome
Strauss piece
appearing in
2001: A Space Odyssey
, you know, the one with the monolith and the monkeys?
Read more about it here in my examiner.com article
Tickets are $20-45
Listen to the "Dies Irae" movement from the Requiem, this is one of the more dramatic movements.