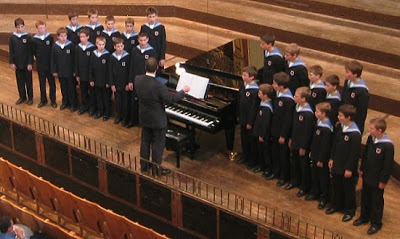 What do you do when someone in front of you farts? What if you're performing in front of hundreds of people? Do you try to ignore it until it passes? Or do you wrinkle up your nose in a super obvious way, and when the song is over elbow your neighbor and give the kid in front of you the stink eye?
Kids are awesome. They can be insanely smart and silly all at the same time.
I was reminded of this, this is evening when I saw the infamous
Vienna Boys Choir
perform at
Grace Cathedral
.
(I really don't want to get that kid in trouble, but OMIGOD it was so funny!!)
These guys were so great. My choir of full grown adults should be so lucky as to pull off a concert like this group of kids did tonight, as they probably do every night. I heard not one mistake. They had EVERYTHING memorized. They sang half a dozen languages perfectly. And, of course they sounded amazing. Grace Cathedral was built for this sound.
But watching these consummate professionals, you see that they really are only children between, I'm guessing, the ages of 8 and 13.
I found myself being totally distracted and entertained by their individual personalities. Who was the troublemaker? Who was the shy one? What can I say, I'm a people-watcher, and kids provide the ultimate people-watching experience.
This is what I saw, and some of these kids fit more than one of these descriptions:
the eye-wanderer - not looking at the conductor, but at everything else.

the yawner - by the second half there were several of these
the one with the Bieber haircut - yes, they are Austrian, but there still has to be one
the one who makes funny faces when he sings - all choirs have one
the one whose voice sticks out - not necessarily in a bad way

the one who keeps forgetting to bow with the rest of the group

the overly animated one - often the one who makes funny faces, often they dance in place

the one with Harry Potter glasses
the one with funny ears - they're kids, this is a given
the one who's WAY taller/shorter than everyone else - again, they're kids, it's a given

the one who just looks really Austrian - whatever that means

Oh, maybe I should mention some of the music: Palestrina, Bruckner (both my favs), Pergloesi, Zoltán Kodály (they sang in Hungarian!), Orff and yes folks some Michael Jackson. They sang "We Are the World" in Austrian accents and it was adorable.