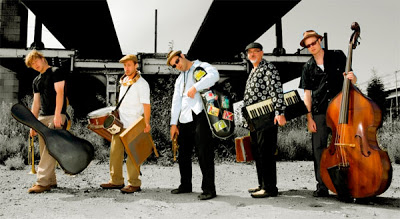 When was the last time you heard a groove so good you wanted to boogie all night? Last week I checked out the new
Chasing the Moon
podcast and have been shakin' it ever since.
The California Honeydrops
will be dropping their third album
Spreadin' Honey
at the New Parish in Oakland next Friday. It promises to be quite a party with non-stop dancing, bbq and, my sources tell me, honey dripping from the walls.
"Our mission, says band leader Lech Wierzynski (who sings, plays trumpet and guitar), "is to get the whole crowd participating and singing along, and we want them partying. It's about feeling good - everybody together."
Honeydrops fans are not just a necessary piece of the puzzle in terms of music making, but in the success of the band from a business side. The band has just returned from a tour of Holland (read about it here) where their Dutch friends helped them book shows through word of mouth. Later this month the Honeydrops will tour Spain, the Pacific Northwest and Eastern Europe. The band is not signed, and therefore relies on fundraising to pay for albums. The new album Spreadin' Honey was funded by a benefit at the Cheeseboard Collective in Berkeley.

California Honeydrops @ Chasing The Moon 06.26.10 from Scott McDowell on Vimeo.