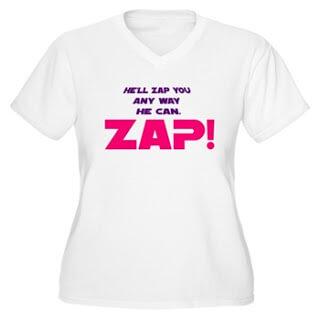 Okay, first of all, if you haven't seen the video, PLEASE watch it. And read my
previous blog entry
if you need any help in deciphering why this is so amazing (I am not being facetious, I really do think this is awesome music, there are just some VERY humorous things about it).
Now, take a look at all of these awesome
t-shirts and other merch
.  While they are all cool, this one above is the only one with a v-neck, the most horrible neckline to ever grace the fashion world (especially on men, sorry!) but is totally appropriate for this 70s fabulous fashion.  
I believe this will be more popular than
"Jesus is my Homeboy."
I *almost* wish I was a believer so I could get in on this.
But until then: ZAP!